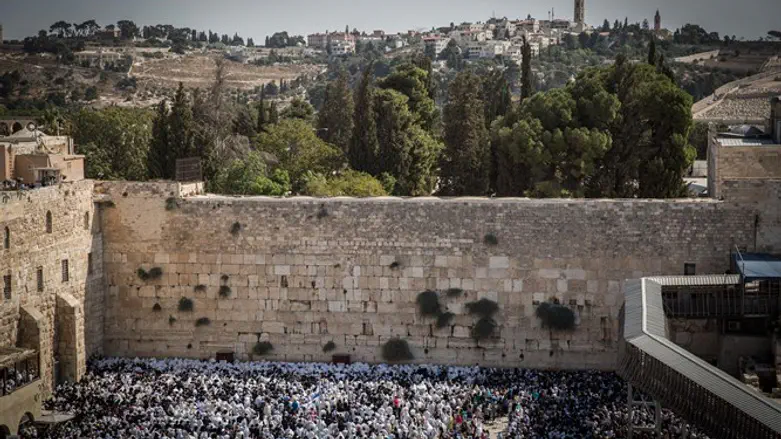 Priestly blessing at Kotel (Western Wall)
Hadas Parush/Flash 90
Arab news outlets report that 300,000 Muslims participated in prayers in and around the Al-Aqsa mosque on the second Friday of Ramadan
In his Friday sermon at Al-Aqsa, Sheikh Ikarma Sabri said the mosque's grounds include the entirety of the Western Wall, and that the entire area belongs only to Muslims.
Claiming the Western Wall is part of the Islamic Waqf, and Jews have no connection to it, Sabri condemned the "Israeli occupation" of Al-Aqsa and attacked Israel for trying to force facts on the ground.
In his opinion, Israel is "boastfully" attempting to "convince the world" to "create" its right to Jerusalem.
Speaking about Fatah member and PA executive Jibril Rajoub's interview with Channel 2, Sabri said Rajoub's view that the Western Wall should remain under Israeli sovereignty is "unacceptable" and "contradicts the Islamic belief that the Western Wall belongs to Al-Aqsa mosque."
Last week, Rajoub said, "We understand that the wall... is sacred for Jews. At the end of the day it must be under Jewish sovereignty, there is no doubt about it."
He then lied to the Arabs, claiming he had "only said Jewish supervision."