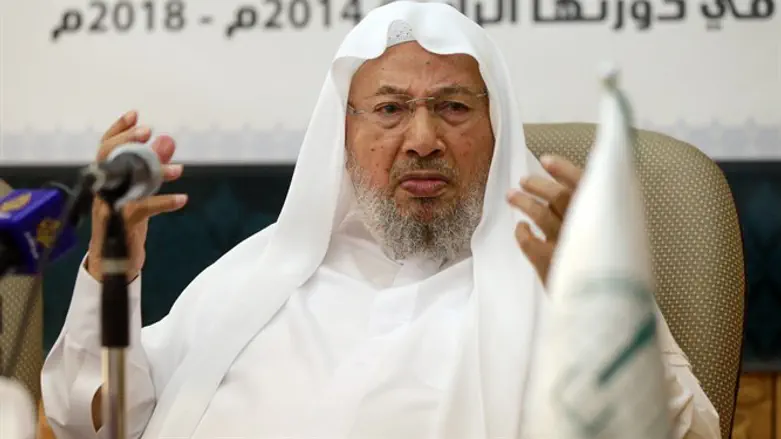 Yusuf al-Qaradawi
Reuters
The row between Qatar and other Arab countries in the Middle East continued on Thursday night, as Saudi Arabia, the United Arab Emirates, Egypt and Bahrain collectively blacklisted 59 individuals and 12 institutions that have financed terrorist organizations and received support from Qatar in the past, reports Al Arabiya.
Among those blacklisted is Egyptian cleric Yusuf al-Qaradawi, one of the spiritual leaders of the Muslim Brotherhood.
"The Kingdom of Saudi Arabia, the Arab Republic of Egypt, the United Arab Emirates, and the Kingdom of Bahrain are unified in their ongoing commitment to combatting terrorism, drying up the sources of its funding, countering extremist ideology and the tools of its dissemination and promotion, and to working together to defeat terrorism and protect all societies from its impact," said a statement from the four countries quoted by Al Arabiya.
"As a result of the continued violation by the authorities in Doha of the obligations and agreements signed by them, including the pledge not to support or harbor elements or organizations that threaten the security of states and to ignore the repeated contacts that they called upon to fulfill what they had signed in the Riyadh Agreement of 2013, its implementing mechanism and the supplementary agreement in 2014; The four States have agreed to classify 59 individuals and 12 entities on their prohibited lists of terrorists, which will be updated in succession and announced," the statement added.
The majority of those entities sanctioned are linked to Qatar and are a manifestation of a Qatari Government policy of duplicity, the statement read.
The announcement comes days after Saudi Arabia, Egypt, Bahrain and the United Arab Emirates all cut diplomatic ties with Qatar and shut down land, sea and air links this week. Jordan and several other countries in the region followed suit.
Those countries accuse Qatar of supporting terror groups in the region, a charge denied by Qatar.
Previously, Saudi Arabia, the United Arab Emirates and Egypt all blocked the website of the Qatari-owned Al-Jazeera television network, which has come under fire for its support of Hamas and the Muslim Brotherhood.
Qaradawi is considered to be the leading jurist of the Muslim Brotherhood. He has previously called for killing U.S. soldiers in Iraq and has vowed that Islam "will conquer Europe [and] will conquer America," whether by force or by the spread of radical Islam.
The Muslim Brotherhood was blacklisted as a terrorist organization in Egypt following the ouster of former President Mohammed Morsi, who is a member of the organization.