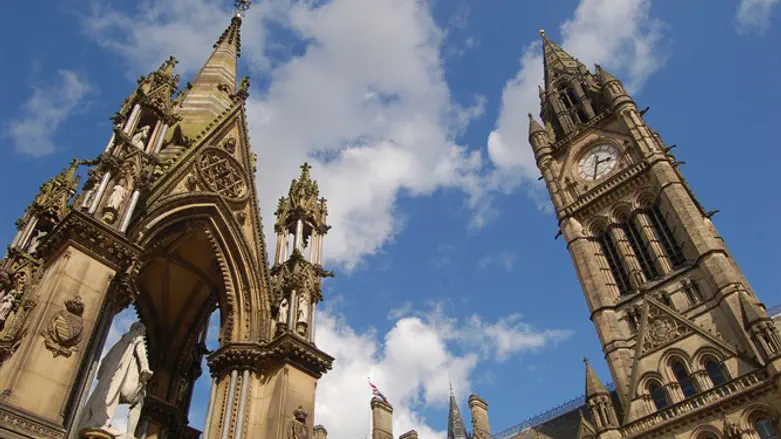 Manchester, England
iStock
British police are treating a fire at a kosher restaurant in Manchester as an "arson attack", they said on Tuesday, according to the Jewish Chronicle.
JS Kosher Restaurant, located in Prestwich, north Manchester, was set ablaze in the early hours of Tuesday morning.
Firefighters tackled the blaze for over an hour, with the Manchester Evening News reporting that the ground floor was badly damaged.
There were no reports of any injuries in the fire, according to the Jewish Chronicle.
It is not yet clear what the motive was for the attack. JS is Manchester's oldest Jewish restaurant, having served the community for 60 years.
This is not the first time that JS has had a fire. In 2008 the restaurant underwent a makeover after a fire damaged its second floor and destroyed its kitchen. However, that fire was not thought to be arson, with the blaze attributed to an overheated oven.
Greater Manchester Police said Tuesday morning they were "investigating an arson attack at a restaurant on Kings Road in Prestwich, that happened at about 3:30 a.m. on Tuesday June 6 2017."
In a statement to the Jewish Chronicle, the Community Security Trust (CST) said, "We are working very closely with GMP but there is no specific information at this time to prove that the attack was or was not anti-Semitic and we don't want to jump to any conclusions about what has occurred."
"We will be sending out security advice to restaurants and shops in Greater Manchester today but this is purely precautionary," added the statement.
If the arson was indeed motivated by anti-Semitism, this would not be the first time that the Jewish community in Manchester has been targeted.
Last Rosh Hashanah, a man carrying an axe made anti-Semitic threats to a group of Jews in Prestwich.
In September of 2015, a 17-year-old boy was beaten unconscious and three other people were hurt in an anti-Semitic attack in Manchester.