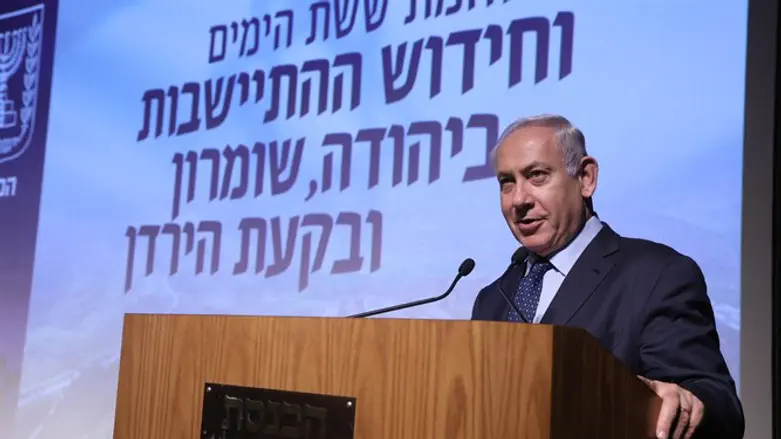 'No man will be uprooted' - Netanyahu
Yitzchak Harari - Knesset Spokesman's Office
Prime Minister Binyamin Netanyahu took part this afternoon (Tuesday) in a festive ceremony held in the Knesset marking the 50th anniversary of the Six-Day War and the renewal of settlements in Judea, Samaria, and the Jordan Valley.
Netanyahu said at the event: "As a young soldier, as early as the summer of 1976, I remember myself practicing field navigation. My friends and I breathed the night air, and we felt that it was a great privilege to fulfill a dream of generations."
Netanyahu stressed: "It is important to remember that the IDF did not take over sovereign territory of another state. The international community did not recognize Jordanians who sat there until 1967. We rightly and justly returned to our homeland. Hevron and Kiryat Arba are full of life, Gush Etzion has been restored to its former glory, and there is the descent to the Dead Sea via Jericho. Not long ago I visited Ariel, a vibrant city with a university in its center. And I am proud that governments I headed have approved this. Arabs and Jews learn there side by side and demonstrate coexistence.
"We will continue to preserve and strengthen the settlement enterprise, and I say what I told the world leaders, Obama and Trump and many others: This conflict is not territorial, and it is not about Judea, Samaria, and the Gaza Strip.To demand that the Palestinians finally recognize the State of Israel, that this principle is a basic principle, the keystone and the root of the conflict, and this message is beginning to seep in, although there is still a long way to go, especially after decades of Palestinian propaganda."
Netanyahu said, "Everyone has the right to live in his home and no one will be uprooted from his home, even when governments are replaced, and I will not elaborate here on ideas that came up, but I am doing everything necessary to preserve settlement in Judea and Samaria.The past proves that when we were able to stand together, we succeeded - when we were divided - the State of Israel was hurt."
נתניהו: נחזק את מפעל ההתיישבות
credit: דוברות הכנסת - יצחק הררי
credit: דוברות הכנסת - יצחק הררי
credit: דוברות הכנסת - יצחק הררי
credit: דוברות הכנסת - יצחק הררי
credit: דוברות הכנסת - יצחק הררי
credit: דוברות הכנסת - יצחק הררי