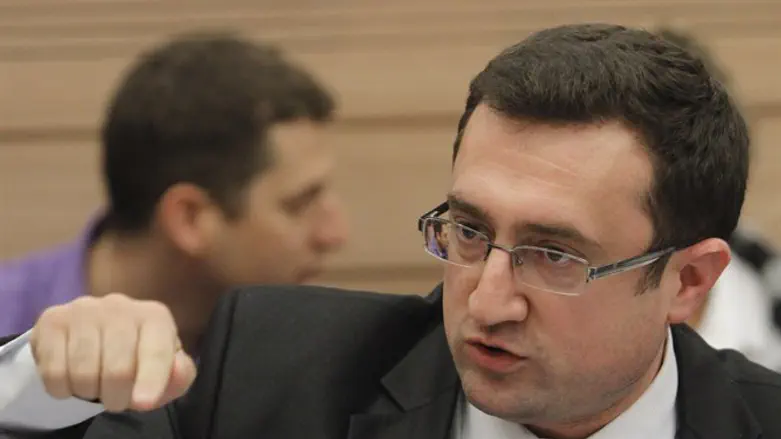 MK Robert Ilatov
Flash 90
A new law passed Monday by the Knesset will subject businesses to a fine of up to 50,000 NIS for discriminating against uniformed IDF soldiers.
The legislation, submitted by Yisrael Beytenu Party MK Robert Ilatov, was first drafted in the previous Knesset following an incident in 2010 where reservists were refused service at the Azad restaurant in Haifa.
The restaurant was filmed by the Zionist organization Im Tirtzu refusing service to uniformed IDF soldiers, and was forced by the Haifa Magistrate's Court to pay a fine of 5,000 NIS. According to Im Tirtzu, there have since been a number of additional cases of discrimination against uniformed IDF soldiers, including in Jerusalem.
Yisrael Beitenu Party Chairman, MK Robert Ilatov, noted how until now there has been no explicit legislation prohibiting such acts of discrimination.
"In light of numerous cases of discrimination against uniformed soldiers, I decided that there needed to be legislation prohibiting this from occurring in public places, including restaurants, entertainment venues and educational institutions," said Ilatov.
"Our uniformed men and women are not only deserving not to suffer from discrimination, but to be honored for their public service to the State of Israel."
Matan Peleg, CEO of Im Tirtzu which was among the initiators of the law, said: "It is inconceivable that in the State of Israel, there are those who would discriminate against IDF soldiers. This is fueled by an anti-Zionist ideology that seeks to uproot the values of the state from within."
"For generations upon generations, Jews have dreamed of having a Jewish army in the Land of Israel," added Peleg. "Im Tirtzu, as the largest Zionist movement in Israel, is committed to continue safeguarding this dream."