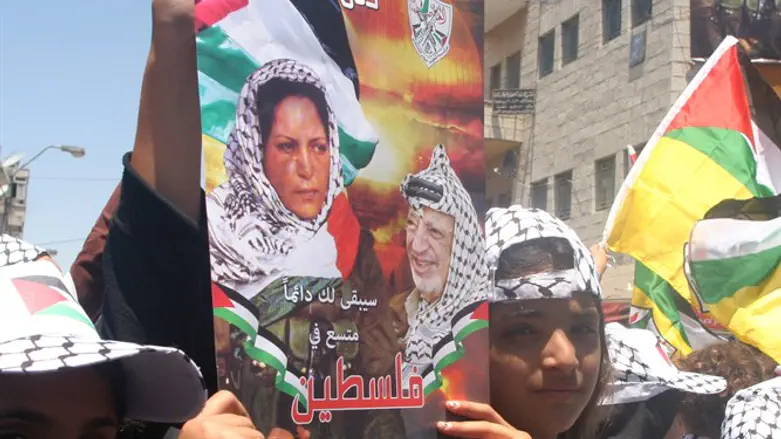 Dalal Mughrabi hero worship in Ramallah
Issam Rimawi/Flash 90
Despite news that two of its sources of funding - Norway and the UN - had withdrawn their support for a PA women's center named after infamous terrorist Dalal Mughrabi, the village council of Burqa, which named the center, was unfazed.
"The center has no intention of caving in to the pressure and change its name," the head of village's council, Sami Daghlas, told PA news agency WAFA according to watchdog Palestinian Media Watch (PMW).
Not only was Daghlas unapologetic, but he emphasized that "the name Dalal Mughrabi was chosen by the villagers to commemorate a Palestinian hero who sacrificed herself for her country and therefore they have no intention to change its name regardless of the price."
The news comes after a PMW report led Norway and the UN to dissociate themselves from the center.
Norwegian Foreign Minister Børge Brende last week slammed the PA for using Norwegian money to build the women's center, and demanded that the PA immediately return the donated money and remove the Norwegian Foreign Ministry logo from the building.
Similarly, Stéphane Dujarric, spokesman for UN Secretary-General Guterres, released a statement on Saturday which read: "The United Nations disassociated itself from the Center once it learned the offensive name chosen for it and will take measures to ensure that such incidents do not take place in the future."
The statement continued: "The glorification of terrorism, or the perpetrators of heinous terrorist acts, is unacceptable under any circumstances. The UN has repeatedly called for an end to incitement to violence and hatred as they present one of the obstacles to peace."
Dujarric said that "The United Nations support to this community ended last year and it has asked for the logo of UN Women to be removed immediately."
Terrorist Dalal Mughrabi, after whom the women's center is named, headed the brutal murder of no fewer than 37 people in the Coastal Highway massacre in 1978.
The most lethal terror attack in Israel's history, it included the hijacking of a bus by Mughrabi and other Fatah terrorists, as well as random shootings at cars on the highway and passengers on the bus. The dead included 12 children, and over 70 people were wounded.