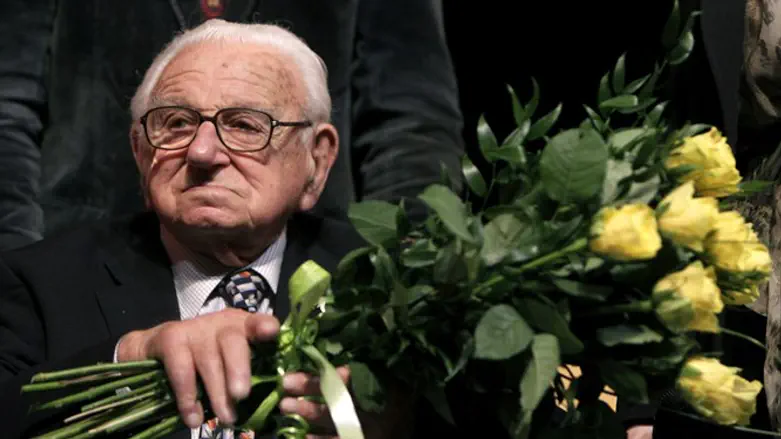 Nicholas Winton
Reuters
A group of children saved from the Nazis by Sir Nicholas Winton, known as the "British Schindler," unveiled a monument in Prague to their parents, JTA reported Sunday.
The monument, called the Farewell Memorial, is comprised of a replica of a train door from 1939, with the imprints of hands of children on one side, and of parents on the other. The memorial was dedicated at Prague's main train station on Saturday, according to the report.
Most of the children saved by Winton, who arrived in Britain on the Kindertransport and were taken in by British foster families, never saw their parents again.
Winton passed away in 2015 at the age of 106.
The baptized son of Jewish parents, Winton was a 29-year-old stockbroker when he arrived in Prague in December 1938. He was planning to go on a skiing holiday in Switzerland, but changed his plans when he heard about the refugee crisis in Czechoslovakia, which had just been occupied by the Nazis. In the following nine months he organized eight trains that carried 669 children, the vast majority of them Jewish, from Czechoslovakia to safety in Britain.
His heroism was unremarked until the 1980s, when his wife found evidence of the rescues. The discovery led to a reunion with some of the children and a documentary. Winton received many honors in his later years, including the knighthood. In October of 2015, he received the Order of the White Lion– the highest Czech state honor – from the country's president in a ceremony at Prague Castle.
After his death, Winton was immortalized on a stamp in Britain, after a petition attracted more than 105,000 supporters.
In addition to the stamp in Britain, an initiative reported shortly after Winton's death could see Prague's main railway station being named after him.