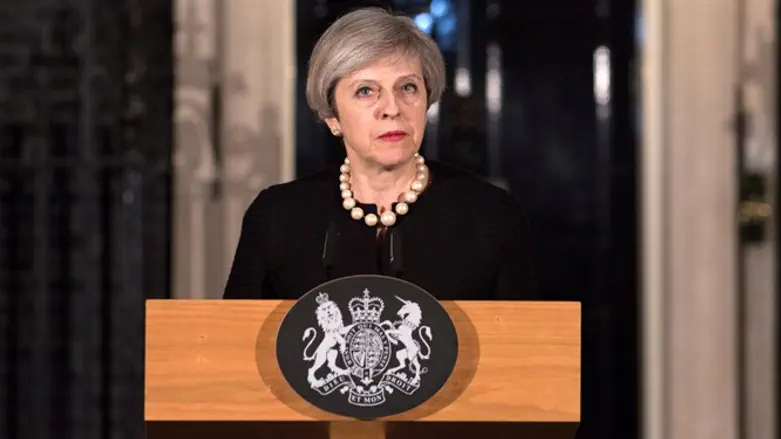 Theresa May
Reuters
US President Donald Trump slammed diplomatically damaging leaks to the media about the deadly terrorist bombing at a concert hall in Manchester, England this week, Fox News reported.
The alleged leaks, which have reportedly angered British intelligence operatives and the Manchester, are believed to have come from US government agencies.
"The alleged leaks coming out of government agencies are deeply troubling," President Trump said in a statement released by the White House. "These leaks have been going on for a long time and my Administration will get to the bottom of this. The leaks of sensitive information pose a grave threat to our national security."
Trump ordered the Justice Department to launch a full investigation into leaks from the investigation into the bombing, which left 22 people dead and another 59 wounded.
Among the alleged leaks to the US press were the name of the suspected terrorist bomber, as well as specific details of the bomb used in the attack which were published by the New York Times.
British Prime Minister Theresa May was angered by the leaks, and said that she planned to "make clear to President Trump that intelligence that is shared between our law enforcement agencies must remain secure" at the upcoming NATO summit.
The Greater Manchester Police condemned the leaks on behalf of the National Counterterrorism Policing units in the UK and said that the leaks undermined the trust between the British and American counter-terrorism agencies.
"When the trust is breached it undermines these relationships, and undermines our investigations and the confidence of victims, witnesses and their family," the statement said.
"This damage is even greater when it involves unauthorized disclosure of potential evidence in the middle of a major counter-terrorism investigation."
An anonymous official told the Associated Press that the Manchester Police may stop sharing information on the investigation with their counterparts in the US unless they receive guarantees that there will be no further leaks to the media.