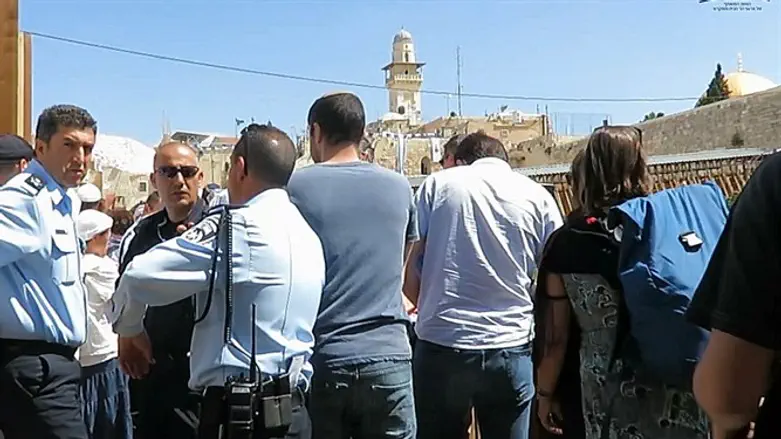 Police at entrance to Temple Mount
Matteh Irguni HaMikdash
More than a thousand Jews ascended the Temple Mount on Jerusalem Day to mark the 50th anniversary of the liberation and reunification of Jerusalem during the Six Day War in 1967, setting a new record for the number of Jews on the Temple Mount at any one time since the destruction of the Second Temple in 70 CE.
The previous record of Jews on the Temple Mount at the same time was 495.
The headquarters of the organizations involved in bringing Jews to the Temple Mount expressed great satisfaction with what they defined as a "dramatic turning point for the Temple Mount." They said that they were surprised at the level of support they received from rabbis, yeshivas, and even government ministers who called for more Jews to ascend the Temple Mount, as well as the positive response from the public to the calls.
The head of Yeshivat Har Etzion, Rabbi Yaakov Medan, who was one of the first rabbis to come to the Temple Mount, was very excited during his visit to the holy site. Time after time the rabbi choked on his words while he spoke about the sweeping changes taking place on the Temple Mount and the change in the attitude towards Jews ascending the mount.
In his remarks to the yeshiva students who accompanied him, Rabbi Medan said that "I have never before seen such honor for the Shekhina (the divine presence) on the Mount."
"Once we used to walk here quickly, with endless instructions on what we should do. There were so few people here, and they only wanted to get rid of us. What we see here [today] is the turning point in which we are in the first step towards the calling of the glory of the Shekhina. The cooperation of the authorities and all the things that we do. It makes me so excited to see this tremendous step we have taken today."