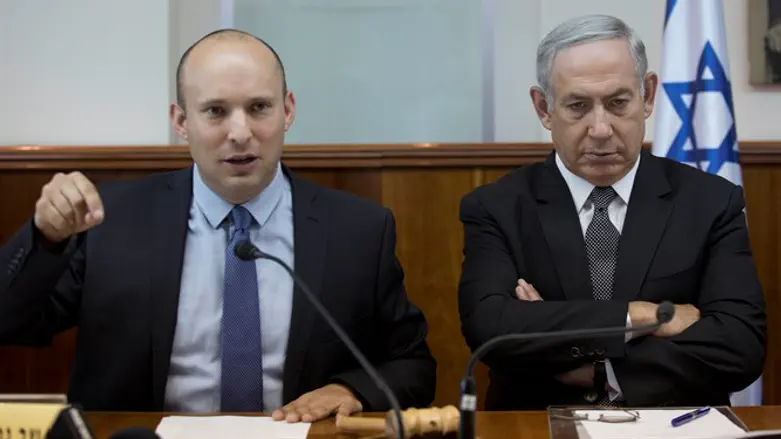 Bennett and Netanyahu
REUTERS
Israel's Security Cabinet approved a package of goodwill gestures for the Palestinian Authority Sunday evening by a wide margin, despite objections by two senior Jewish Home ministers.
Prime Minister Binyamin Netanyahu had proposed the gestures in the cabinet, hoping to have the measures approved prior to President Donald Trump's arrival in Israel on Monday.
President Trump has expressed his desire to reboot negotiations between Israel and the Palestinian Authority, despite a 17-year old diplomatic stalemate.
During an extended meeting of the Security Cabinet, which lasted more than five hours, Education Minister Naftali Bennett and Justice Minister Ayelet Shaked – both from the Jewish Home – expressed their opposition to the gestures, particularly plans to approve significantly more construction by Palestinian Authority residents in Area C – which is under Israeli security and civil administration.
Despite their opposition the measure passed with a large majority, with only the two Jewish Home cabinet members opposing the gestures.
Aside from increased Arab construction in Area C, the gestures include new industrial zones for the Palestinian Authority and an easing of passage for PA residents through the Allenby crossing on the Jordanian border.