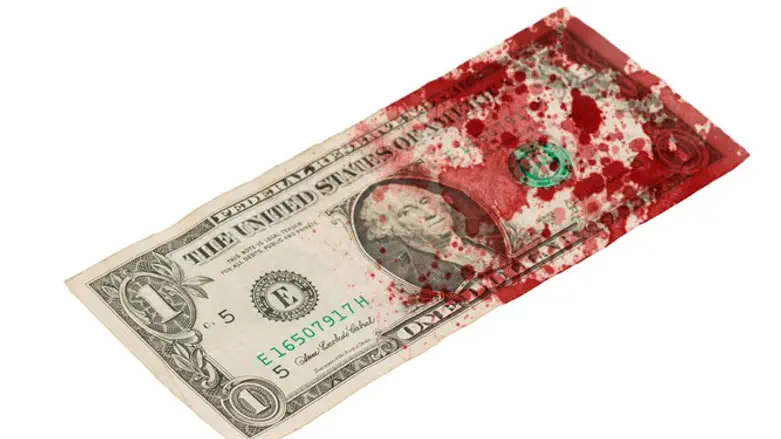 'Stop financing murder'
iStock
More than 100 bereaved families signed a letter calling on the American president to demand that the PA immediately halt the payments it makes to terrorists and their families.
One of the initiators of the letter is Yossi Tzur, whose son Assaf was murdered in a terrorist attack on bus No. 37 in Haifa in March 2003: "Three of my son's murderers were released in the Shalit deal and receive monthly money from the Palestinian Authority - blood money for the murder of a child. Hundreds of bereaved families see every day how the murderers of their loved ones enjoy a regular salary."
The tent compound opposite the US consulate will open today (Sunday) at 16:00 with a press conference and will run continuously until Wednesday. The site will display pictures of Israelis who were murdered by Arab terrorists. At the opening, international comics artist Michael Netzer will unveil a protest cartoon against Abbas and the aid money the United States is giving the PA.
"The families who lost sons and daughters, husbands and wives, brothers and sisters, can not stand idly by while the American president hints that he will press for renewed talks with the PA without expressing any intention to stop the incitement. During Trump's visit we will stand together, terror victims and bereaved families, and we will demand - stop financing terror!"
Hadas Mizrahi, one of the initiators of the protest letter, was wounded in a shooting attack near Hevron in 2014 on her way to the Passover Seder meal. Her husband, the late Baruch Mizrahi, was murdered in the attack: "The terrorist who murdered my husband receives funding from the PA and the terrorists in the prisons are hunger striking even though they enjoy five star conditions. We must stop these payments, which are a reward for the murderers of Israelis. "

Shai Maimon, also one of the initiators of the protest letter, was wounded in a shooting attack in Shvut Rachel in June 2015. "During my military service in the Egoz unit I caught the terrorist Ahmed Najar, who was later released in the Shalit deal. As a freed terrorist, Najjar received money from the PA, and with that money he financed and produced the attack in which I was wounded and Malachi was murdered. These payments cause the Israelis to pay with their lives, it must stop."