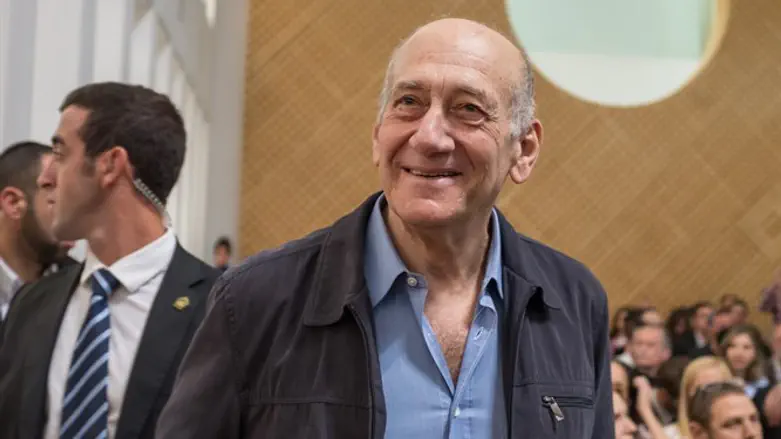 Ehud Olmert
Emil Salman/Flash 90
One of the lawyers representing former Prime Minister Ehud Olmert was caught with classified documents in his possession as he left the prison in which Olmert is serving time, Channel 2 News reported Friday.
The incident took place on Thursday, the report said. It is unclear whether the documents had been smuggled into Olmert's cell or whether he took them with him to prison.
The documents were confiscated and transferred to the relevant defense agency for examination. It is now being investigated whether Olmert used the documents to write a book he is currently working on.
The Justice Ministry said the material has not been transferred to it and therefore it cannot comment on the matter.
Olmert previously requested special permission to write his book on a computer, but was refused. As such, he is writing the book by hand and so far has written over 1,000 pages, according to Channel 2 News. The material he is writing is subject to the review of the military censor. The lawyer who was caught on Thursday, according to the report, is a very senior lawyer in Israel.
Olmert's lawyers said in response, "Former Prime Minister Ehud Olmert does not need any seal of approval regarding his connection to Israel's national security. He has never leaked anything sensitive that could have done harm to the State of Israel. During his time in prison, Mr. Olmert wrote an autobiographical book that deals with the story of his life and his activities on social, economic and fateful security issues. This book was sent to the censor more than two months ago and no one, certainly not Mr. Olmert, has the intention of publishing it without obtaining the censor's approval. Other than the book, no classified material was transferred or published by him."
The Israel Prison Service would not comment on the matter, but it could have implications for Olmert's possible early release, noted Channel 2 News. The parole board is to meet in two weeks to discuss Olmert's request to shorten his sentence.
(Arutz Sheva's North American desk is keeping you updated until the start of Shabbat in New York. The time posted automatically on all Arutz Sheva articles, however, is Israeli time.)