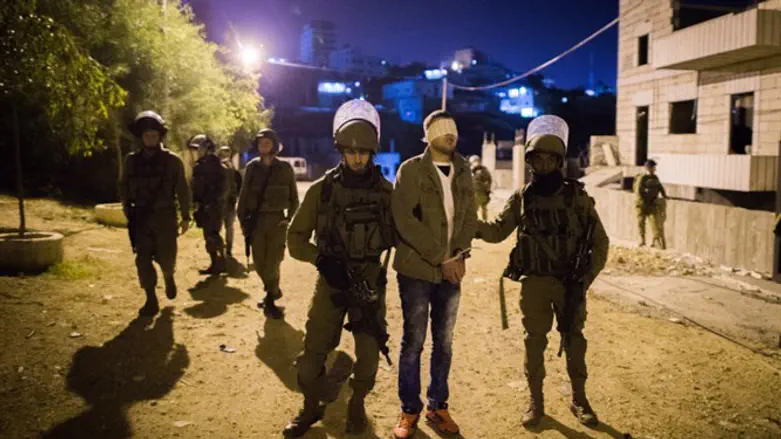 IDF arrests suspect during overnight raid
Flash90
Within the wider context of IDF operations against Hamas infrastructure in Hevron, forces in the Judea regional battalion, in conjunction with Shin Bet forces, Border Police and Israeli Police, successfully executed last night an operation which saw the confiscation of vast sums of money given as reward for terror acts against Israelis.
The operation included 10 different target destinations. Thousands of shekels were confiscated in total, as were cars and computers given to terrorists' families as reward for the terror acts.
The terror families from whom money was confiscated included those of the terrorists involved in the kidnapping and murder of the three boys Naftali Frenkel, Eyal Yifrah and Gilad Sha'ar in 2014. Since the attack, in which Hamas terrorists pretending to be Jews picked up the boys from a hitchhiking junction in Gush Etzion and later murdered them, the families had been benefitting from significant sums of money given them by Hamas as a show of encouragement for terror acts.
Also last night, 22 terrorists were arrested across Judea and Samaria. IDF forces serving in the Binyamin region, along with Shin Bet forces, Border Police, and Israeli Police arrested 14 terrorists in that region alone. Included among those arrested in Binyamin were members of a terror cell in the village of Hizma who had thrown Molotov cocktails and rocks at passing cars on Route 60 in the region. Likewise, forces arrested in the village of Silwad 6 terrorists associated with recent acts of terror in the region.