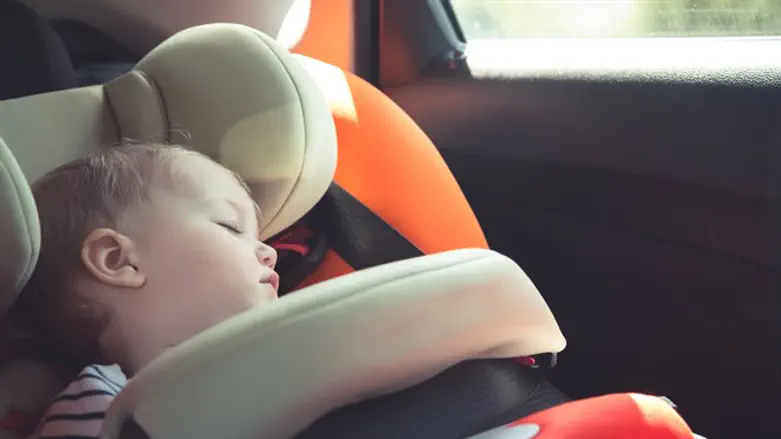 Baby in car
iStock
The Committee for the Rights of the Child held a meeting today (Monday) on the issue of eliminating the incidence of parents forgetting children in the car, the sixth such meeting since the start of the Knesset session.
The hearing took place following the death of a toddler last weekend after being forgotten by her mother in a car in a Samarian village.
Committee chair MK Yifat Shasha Biton (Kulanu) opened the discussion: "We had hope, especially when we approved the children's safety program, that this summer would pass peacefully and that we would be able to measure success, but unfortunately the summer started very badly with a baby forgotten to her death, and forgotten children who were rescued by vigilant citizens."
Shlomi Chavotro, head of the Air Pollution Division at the Transportation Ministry, said, "We intend to revise existing standards on the subject and allow additional technologies to appear as approved systems to prevent forgetting children in vehicles."
MK Shasha-Biton asked, "When is the change in the standard expected?" Vered Oren of the Standards Institute answered, "For this summer it's a bit problematic."
Avner Flor, Senior Deputy Executive Director at the Transport Ministry: "We have a short-term solution by introducing the said technology into standardization. This will not prevent those who want to install already from doing so. We will also in two weeks be starting an information campaign.
"Regarding mandatory regulation, we are not ready today to amend a law, since there is no European or other standard. The ministry's position at this stage is not to regulate, but to focus as much as possible on prevention," said Flor.
MK Shasha-Biton: "This is a slogan. There is no substitute for regulation. Vehicles for transporting children have standards that obligate them even though no such standards exist elsewhere in the world. Where we are, we want to save children. What are they afraid of? How many children have to die until we are ready?! I am disturbed by the nonchalance with which children's lives are treated, and parents will not buy safety measures if they are not obligated."
Flor answered: "When the Transportation Ministry establishes regulation it is based on a standard that exists in the world. In transportation vehicles we have introduced an Israeli standard that is problematic. We will expand to a range of possible technologies before we obligate it," he said.
MK Ayelet Nahmias Verbin ("Zionist Camp"): "This is the tenth hearing in two-and-a-half years; how many discussions can be held on this issue?! We're fed up. Another discussion and another discussion, and the baby Shaked is no longer. Government ministries, Standards Institute, stop this laxity! You must not wait for the next child. If there is no regulation in a short time, there will be legislation."
Attorney Carmit Pollak Cohen, Legal Adviser to the National Council for the Child, said: "When they wanted to promote the public broadcasting law, they kept everyone on a cliffhanger every evening. Here, a girl roasted in a car yet there's time.... Sit every night, every day. Now we're in May; we have June, July, August, September; what's so hard to prevent the next death?!"
Galit Gilad, Deputy Director of the Beterem children's safety organization, offered: "The parents are confused, they want help. You must launch an endless campaign from the first day that it starts to be hot until the end of the summer that will remind people, give tips. If we wait for regulation, it will not help."
A confrontation developed between Knesset members and Lily Pukmonski, head of the kindergarten department at the Teachers' Union, who claimed, "You place all responsibility on kindergarten teachers. First of all you must state that the primary responsibility is that of the parent to his child."
MK Shasha-Biton: "I did not say such a thing. I'm talking about voluntary responsibility. Year after year you are here and refuse to cooperate. You know how much the kindergarten teachers care yet you incite kindergarten teachers against the children and against all the processes we are trying to do here to safeguard the children.
"Are you capable of telling the teachers that everyone should mobilize as much as she can?" Pukmonski replied, "You will not tell me what I am capable of." MK Nahmias Verbin replied: "We supervise the work and activities by virtue of our role in the Knesset. You will not tell us what we may say or not. There are rules here."
MK Shasha Biton: "Time after time we talk about the fact that there is no criminal responsibility. We beg that a kindergarten teacher voluntarily pick up a telephone in case a child has not arrived - and for what?! To save children's lives! Does that not matter to you?"
The chairman of the committee summed up the discussion: "These discussions are very difficult and demanding for me, but with this grim opening to the summer, we want to prevent further losses. Without the mobilization of all parties, the process will not work. I remind the Internal Security Ministry to issue reminders to patrols to increase vigilance. The Union of Local Authorities can call on meter inspectors to look inside cars and to install warning signs in public places. The Transportation Ministry - I call on you to act to establish regulations the moment the standard is revisited. The Social Affairs Ministry - put out a voluntary call to nurseries and kindergartens to enlist to call parents of children who do not arrive to school. Health Ministry - update us on the stickers, and the broadcast campaign must be aggressive, long-term, and diverse, and must start now. Standards Institute - update on the new standard. We are all part of a safety net because we want to be, not that we must be. I call from here upon parents to be vigilant; it is your responsibility first, we are here to help them if necessary."