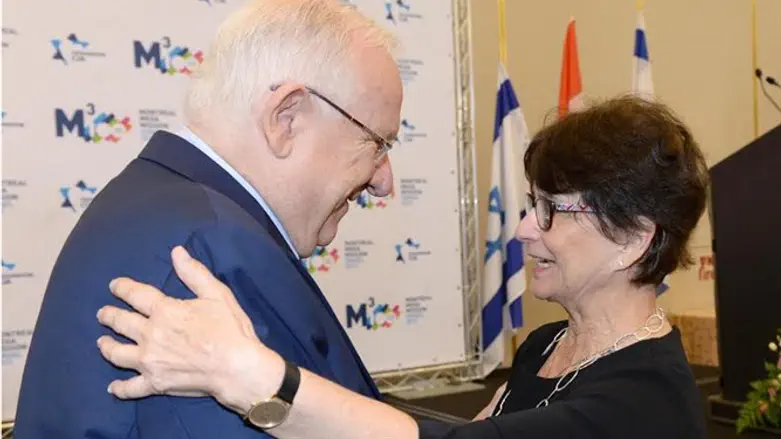 Rivlin with Canadian Ambassador to Israel Deborah Lyons
Mark Neiman (GPO)
Israeli President Reuven Rivlin on Sunday morning addressed in Jerusalem a delegation of 920 members of the Montreal Jewish Federation.
The delegation is currently visiting Israel to mark the organization's centenary, and to celebrate 50 years since the reunification of Jerusalem.
Montreal Jewish Federation President Evan Feldman led the delegation, and Canada's Ambassador to Israel Deborah Lyons attended the event as well.
President Rivlin congratulated all the participants and spoke of the strong bond between Israel and Canada, and of the important role the Jewish community played in that relationship.
"We are just a few days away, from celebrating a miracle, 50 years, of a united Jerusalem," Rivlin said. "All of us - all the Jewish People - are partners in that joy."
"The connection between the Jewish people and Jerusalem, is a fact of history. Jews have lived in this city for 3,000 years. This is the city of King David, of King Solomon, of the First, and Second Temple. And in more recent times, there has been a Jewish majority in this city, for 150 years, since 1850.
"Today, the State of Israel, is a proud democracy, and I can assure you, there is no gap between Israel as a Jewish state and as a democratic state. There is no gap and there will be no gap in the future.
"The State of Israel, is not just a place, it is an idea. The dream that the State of Israel, would be part of the lives of all Jews."
Rivlin ended his speech by thanking the Federation and its leaders for the dedication and support of Israel.