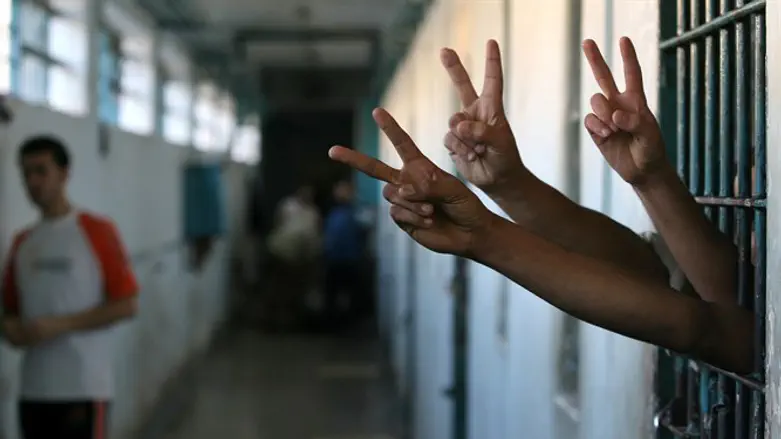 Terrorist prisoners (illustration)
Flash 90
The current hunger strike held by imprisoned Palestinian terrorists gave the Palestinian Authority (PA) another opportunity to promote one of its female role models, Um Nasser Abu Hmeid, reports Palestinian Media Watch.
Latifa Abu Hmeid (her proper name) is famous in the PA for being the mother of four imprisoned terrorists, all of whom are serving life sentences. She has joined the hunger strike in solidarity with her sons and the other imprisoned terrorists. A fifth son, a member of Hamas, was killed and is considered "a martyr."
In the eyes of the PA, her fostering of five terrorists makes her uniquely worthy of honor. PA chairman Mahmoud Abbas himself received her and other relatives of terrorist prisoners at his office last month, and a Fatah leadership delegation visited her at home.
At the event in Abbas' office, Abbas reiterated that the prisoners are one of the PA's main concerns:
"The president noted that the prisoners' cause is a priority among the issues in which the leadership is interested. He called on everyone to stand alongside the prisoners and their just cause, and to ease their suffering and their families' suffering," he said, according to the official PA daily Al-Hayat Al-Jadida.
The Fatah delegation that visited Um Hmeid included Abbas's Deputy Chairman Mahmoud Al-Aloul and Fatah Central Committee member Jamal Muhaisen. On this occasion, Al-Aloul emphasized Fatah's support for the imprisoned terrorists, stating in comments quoted by the independent PA news agency Ma'an that "Fatah will always remain loyal to the Martyrs and prisoners' promise, and will continue its struggle until the release of all of our prisoners from the occupation's prison."
Palestinian society has honored the mother of these five terrorists with two nicknames: "The Oak Tree of Palestine" and "Khansa of Palestine." Khansa is a reference to a woman in the earliest period of Islam who sent her four sons to battle and rejoiced when they were all killed as Martyrs.
An op-ed in the official PA daily wrote that Latifa Abu Hmeid is so great that instead of calling her "the Oak Tree of Palestine" and "Khansa of Palestine," the two should rather be named after her, even "Palestine" itself should be named after Latifa.
"I read that they call Latifa by names such as The Oak Tree of Palestine, Khansa of Palestine, and so forth. All these names seem to me to be insufficient, and to diminish her value, for what would we lose if we change the language and call the oak tree, Khansa, and Palestine itself by Latifa's name?" read the op-ed.
Another senior PA official who visited Hmeid was Laila Ghannam, District Governor of Ramallah and El-Bireh, who accompanied the Director of the Health Directorate of Ramallah Dr. Wael Al-Sheikh who monitors her health during her hunger strike. Ghannam stressed that "the mothers of the prisoners and the Martyrs are the mothers of all of us and constitute a priority for everyone that belongs [to the Palestinian nation]", according to Ma'an. Ghannam has visited Um Hmeid before.
Palestinian Media Watch has documented that the PA for years has honored Um Hmeid for being the mother of terrorists.
In 2011, the PA chose Um Hmeid to launch their statehood campaign, and had her lead the procession to the UN offices in Ramallah and hand over the PA's letter requesting statehood for delivery to then-UN Secretary General Ban Ki Moon.
In 2010, a PA minister honored her for having four terrorist sons serving 18 life sentences.
In praise of Um Hmeid, then Minister for Prisoners' Affairs Issa Karake glorified Palestinian mothers for "giving birth to fighters", saying, "The Palestinian mother is a central partner in the struggle...It is she who gave birth to the fighters, and she deserves that we bow to her in salute and in honor."
Both official PA TV and the independent Ma'an TV have honored Hmeid. PA TV called the terrorist family "a source of pride to all of us" on July 18, 2015.