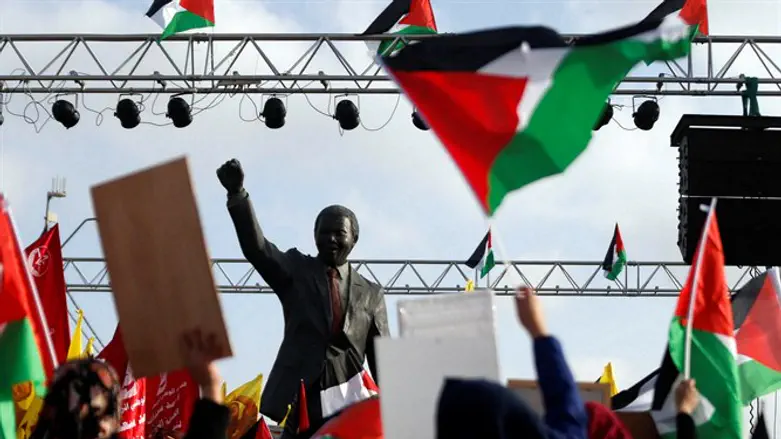 Rally in Ramallah in support of hunger striking terrorists
Reuters
Thousands of Palestinian Arabs rallied Wednesday in Ramallah in a show of support for terrorists on hunger strike in Israeli prisons.
Gathering as Palestinian Authority (PA) chairman Mahmoud Abbas was about to meet U.S. President Donald Trump in the White House for the first time, they chanted "Freedom, freedom", according to AFP.
The terrorist prisoners, led by Fatah leader Marwan Barghouti, launched the hunger strike on April 17, in an attempt to pressure Israel to improve the conditions of their imprisonment.
While about 1,000 prisoners were reportedly fasting when the strike started, it has shown signs of weakening in recent days.
Supporters of the prisoners say 50 more will join the hunger strike from Thursday, among them prominent faction leaders such as Ahmed Saadat, of the Popular Front for the Liberation of Palestine (PFLP), who organized the 2001 murder of former Tourism Minister Rehavam Ze'evi.
Barghouti is serving five life sentences in an Israeli prison for his role in planning suicide terror attacks during the second intifada from 2000 to 2005.
"I am addressing you from solitary confinement, among thousands of prisoners and on their behalf, and among hundreds of prisoners who have decided to launch this hunger strike for freedom and dignity that will continue till their legitimate demands are met," he wrote in a statement released Wednesday by the Palestine Liberation Organization (PLO).
"Israel cannot silence us, nor isolate us, nor break us," the letter said, adding, "This hunger strike aims to confront the ongoing and escalating unjust Israeli occupation policies against prisoners and their loved ones. We stress our determination to undertake this struggle whatever the cost."
Jailed terrorists have often used hunger strikes as a pressure tactic aimed at forcing Israel to improve the conditions of their imprisonment or release them out of fear for their lives. Israel has several times in the past caved to the pressure and released some hunger strikers.
Some 1,550 terrorist prisoners in Israel ended a hunger strike in May 2012, in exchange for a package of measures which would allow visits from relatives in Gaza and the transfer of detainees out of solitary confinement.