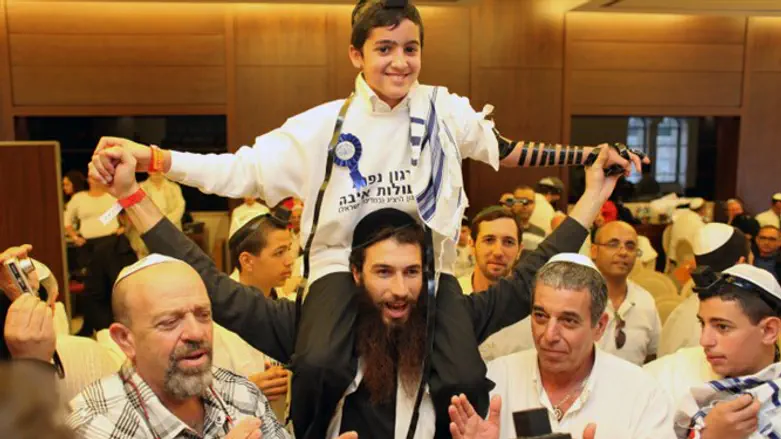 Bar mitzvah for children of wounded soldiers at Aish Hatorah yeshiva
Flash 90
On May 8th the International Young Israel Movement (IYIM) for the Israel Region will be hosting its annual bar/bat mitzvah celebration in Jerusalem.
The celebration is part of IYIM's Judaic Heritage Program for Israel's Deaf and Hearing Impaired.
Enrollment for the 2017 celebration has surpassed previous years, and IYIM looks forward to its biggest event as of yet with the hosting of more than 70 celebrants from Kiryat Shmonah in the North all the way down to Eilat in the South.
The celebrants include students from the SHEMA after-school network and from various schools all over Israel. Each participant brings his or her own life story and what they have had to work towards and overcome to reach the celebration of this life milestone, their entry into Jewish adulthood.
The unique ceremony is the culmination of several months of educational programming for each celebrant on the basics of Judaism and the ethics of Jewish adulthood. The celebrants will be accompanied by family members, teachers, and counselors.
The day will begin in a beautiful synagogue in Jerusalem, where IYIM will host what promises to be a moving ceremony, followed by a celebratory lunch. The group will continue to a tour of the Old City, with a concluding ceremony taking place at the Kotel. The day's events are accompanied by sign language interpreters from start to finish.