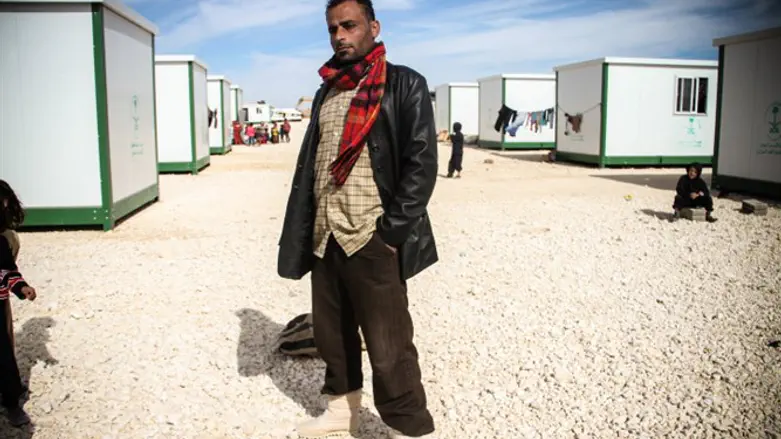 Syrian refugees
Flash 90
Israeli Jews strongly back President Donald Trump's decision to strike a Syrian airbase used in a chemical weapon attack on civilians earlier this month, a poll conducted by the Israel Democracy Institute's Guttman Center and Tel Aviv University shows.
According to this month's Peace Index survey, 78.6% of Israeli Jews say President Trump's decision to launch a Tomahawk missile strike on the Al Shayrat airbase was wise. Just 9.3% say the decision to reverse America's longstanding policy of non-intervention was unwise.
Israeli Arabs strongly opposed the operation, in which some 60 Tomahawk missiles were fired by two US guided missile cruisers against the Syrian base.
Only 16.2% of Israeli Arabs said the decision to attack the base was wise, while 61.2% said it was unwise.
Israeli Jews and Arabs are also divided over whether Israel should take in Syrians fleeing the ongoing civil war.
More than half (51.8%) of Jews said Israel should not take in Syrians temporarily, compared to 41.3% of Jews who said Israel should accept at least some refugees. But among Israeli Arabs, 61.0% believe Israel should accept Syrian refugees, compared to 31.8% who say Israel should not.
Both Israeli Jews and Arabs tended to agree that Israel should not get involved militarily in Syria should the West intervene to end the civil war.
Just 18.7% of Israeli Jews and 33.6% of Arabs said Israel should join such an effort, while 76.1% of Jews and 54% of Arabs said Israel should not become involved in attempts to end the war.