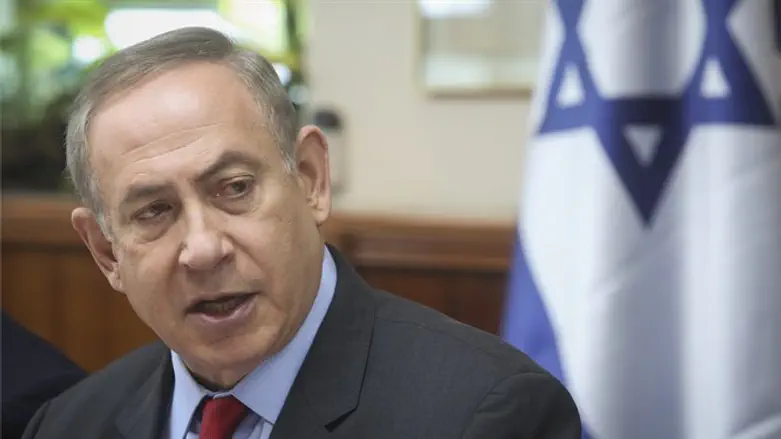 Binyamin Netanyahu
Marc Israel Sellem/POOL
Prime Minister Binyamin Netanyahu slammed German Foreign Minister Sigmar Gabriel on Friday over Gabriel's recent meeting with radical left-wing organizations during his trip to Israel, calling the decision to meet with the groups "tactless".
Gabriel met with representatives of the anti-IDF organizations Breaking the Silence and B'Tselem a day after Holocaust Remembrance Day, despite an admonition by Netanyahu that a high-level meeting between a representative of the German government and fringe groups would not be tolerated by Israel, and would result in the cancellation of planned meetings between the Prime Minister and Gabriel.
Gabriel responded to the ultimatum, calling it "regrettable".
Despite Netanyahu's warning, Gabriel met with members of the radical left-wing NGOs on Tuesday, prompting the Prime Minister to cancel the planned meeting with Gabriel.
Later on Tuesday, the Prime Minister reached out to Gabriel by phone to explain the reason behind the ultimatum and subsequent cancellation. According to the Prime Minister's Office, however, Gabriel refused the call – a claim the German Foreign Minister has denied.
On Friday, Netanyahu spoke with the German newspaper Bild, criticizing Gabriel's behavior over the past week.
"I find it extremely tactless for such a meeting to take place at this time," said Netanyahu, referring to Gabriel's meetings with the two fringe groups. "On this day we mourn the murdered members of our people and our fallen soldiers."
Netanyahu said the logic behind his decision to cancel the meeting with Gabriel was straightforward.
"My principle is quite simple: I do not receive diplomats from other countries that visit Israel and meet with organizations that call our soldiers war criminals."
Despite denials by Gabriel, Netanyahu insisted he did in fact attempt to call Gabriel to explain the cancellation, but was turned down by the Foreign Minister.
"I wanted to call on Foreign Minister Gabriel to explain my point of view and to clean up the matter, but he declined the telephone call."
The Prime Minister added that despite the spat, he would be willing to meet with Gabriel in the future – provided he does not meet again with anti-IDF groups.
"I hope Gabriel will meet with me on his next visit to Israel, rather than with a radical marginal group that undermines Israel's security."