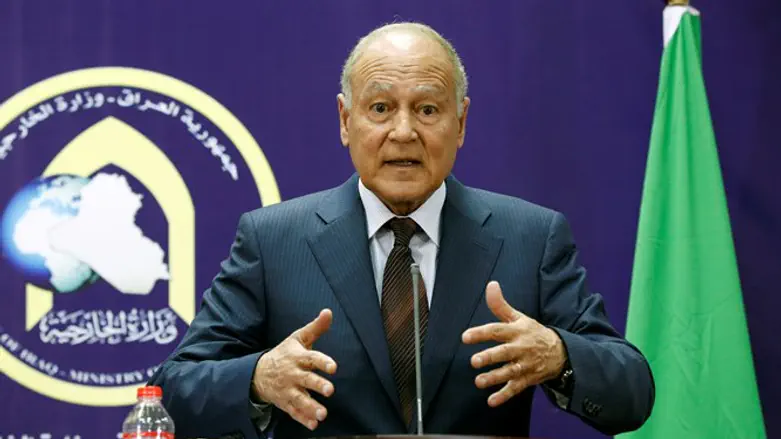 Ahmed Abul Gheit
Reuters
Arab League chief Ahmed Abul Gheit on Wednesday urged the International Committee of the Red Cross (ICRC) to intervene and halt what it called Israeli authorities' "abuse" of Palestinian prisoners.
Abul Gheit sent a letter to ICRC president Peter Maurer requesting "the committee (ICRC) urgently intervene with Israeli authorities to stop the various abuses being committed against those prisoners of war", the Arab League said.
The letter comes amid a mass hunger strike by terrorist prisoners over demands ranging from improved medical care to greater access to telephone calls.
The terrorist prisoners, led by Fatah leader Marwan Barghouti, launched the hunger strike last week, but by the end of the week the hunger strike showed signs of weakening.
Barghouti is serving five life sentences in an Israeli prison for his role in planning suicide terror attacks during the second intifada from 2000 to 2005.
Abul Gheit's letter to the ICRC is part of contacts "with international actors to stop violations against Palestinian prisoners of war in Israeli prisons", the League said in a statement.
He called for the ICRC to demand Israel "ensure treating Palestinian prisoners on hunger strike according to norms and standards set in international humanitarian law".
The Arab League chief sent a similar letter on Tuesday to United Nations secretary general Antonio Guterres.
Jailed terrorists have often used hunger strikes as a pressure tactic aimed at forcing Israel to improve the conditions of their imprisonment or release them out of fear for their lives. Israel has several times in the past caved to the pressure and released some hunger strikers.
Some 1,550 Palestinian Arabs imprisoned in Israel ended a hunger strike in May 2012, in exchange for a package of measures which would allow visits from relatives in Gaza and the transfer of detainees out of solitary confinement.