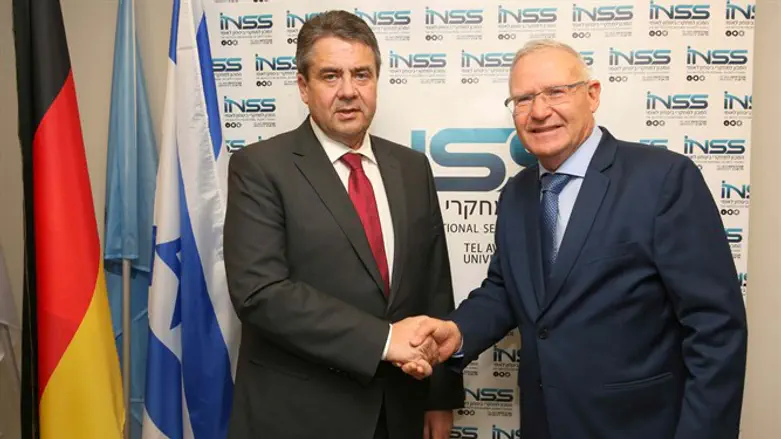 Yadlin and Sigmar Gabriel
Chen Galili
German Deputy Chancellor and Foreign Affairs Minister Sigmar Gabriel visited the Institute for National Security Studies in Tel Aviv on Tuesday.
Gabriel received a comprehensive review of the threats and opportunities on the various fronts from the Institute's experts, headed by Maj. Gen. (res.) Amos Yadlin, and presented the positions of Germany on how to make progress vis-a-vis the Palestinian Authority (PA). Gabriel also wanted to hear from experts at the Institute about ways to make such progress.
"There is a mistaken understanding that if the Israeli-Palestinian conflict is resolved, all the problems in the region will be resolved. This is a mistake. The problems in Syria, Iraq, terrorism – will remain here. We know that," he said.
At the same time, Gabriel stressed, "We must restore trust between Israel and the Palestinians. Israel needs international support to advance the diplomatic process. The international community has an important role in bringing the Palestinians to the negotiating table, but it also depends on Israel's strategy and its commitment to the two-state vision."
During the meeting, Yadlin related to the Iranian nuclear issue and said, "A nuclear bomb in the hands of Iran is a threat that must not be allowed to develop and the international community must thwart it. Iran continues to call to wipe Israel off the map and we, as a nation that has experienced threats of annihilation that have become reality, will not allow it. Tehran operates terror and subversion, and is becoming stronger thanks to the resources and legitimacy it has gained as a result of the nuclear agreement. However, in the short and medium term, the agreement allows for political and military preparations for its long-term ramifications. "
He referred to the issue of Israel-PA peace talks and said, "The international community must move from the 'all or nothing' approach to interim agreements. There will be no compromise on security matters - this is not an excuse but a real need for Israel and you must understand this.
"We must focus on the issues on which it is possible to reach agreements with the Palestinians and implement them. The preferred option is bilateral negotiations, but there are alternatives," continued Yadlin.
"If the Palestinians persist in their refusal, Israel must ensure its existence as a Jewish, democratic, and secure state - independently, in coordination with the United States and the international community," he added.