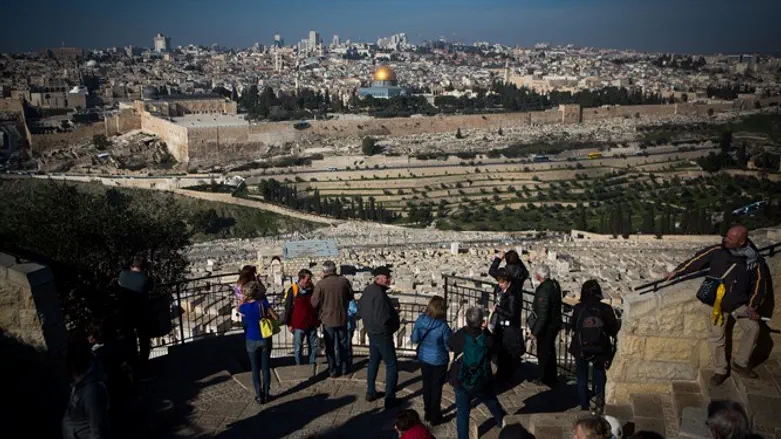 Mount of Olives overlooking Old City
Miriam Alster/FLASH90
The Jerusalem municipality announced plans on Tuesday to expropriate land in the Arab neighborhood of Ras Al-Amud in eastern Jerusalem, next to the historic Jewish cemetery on the Mount of Olives.
The move is the first step towards the construction of a visitors center to serve those visiting the ancient Jewish burial ground, one of the oldest and largest Jewish cemeteries in the world, and other historic landmarks in the area.
According to the left-wing daily Haaretz, the center is to be built in between the main road running through the neighborhood and the wall surrounding the cemetery, nearby a recently closed mosque.
The planned visitors center will also include an events hall, gift shop, and mapping office.
While the new facility will enable thousands of visitors to tour this ancient site or visit the graves of loved ones, not everyone is happy about the project.
Hagit Ofran, a senior member of the radical left-wing Peace Now group, which opposes Jewish presence in Judea, Samaria, and eastern Jerusalem, labelled the plan "settlement tourism".
"Building a tourist site in the heart of the Holy Basin of Jerusalem, next to a mosque, facing the Temple Mount, really means building a kind of settlement."
Ofran argued that the presence of a tourism center in the area, something that ordinarily would be viewed as advantageous to local residents, would somehow harm the local 'fabric of life'.
"This project, together with other settlement tourism [projects] being pushed by the government in other Palestinian neighborhoods near the Old City, not only increases tensions in Jerusalem but harms the gentle fabric of life there. These [projects] also threaten the chances of reaching a compromise agreement on Jerusalem."