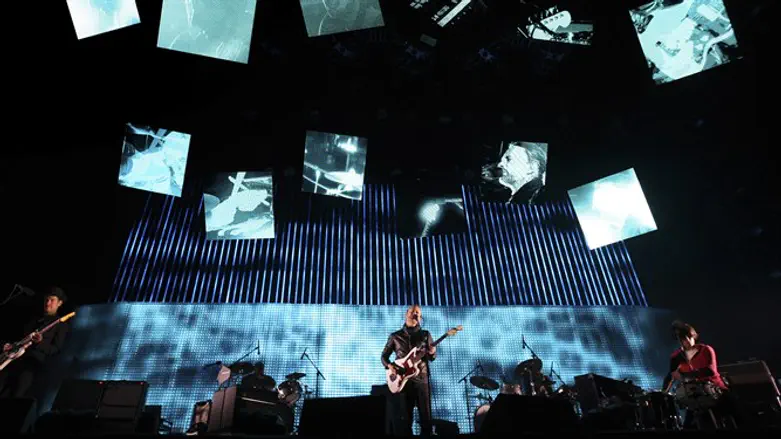 Radiohead in concert
Reuters
Dozens of artists, including former Pink Floyd star Roger Waters, on Monday called on Radiohead to cancel a concert in Israel, AFP reported.
The English experimental rock icons announced in February they would play in Tel Aviv on July 19, closing a tour that includes premier festivals Coachella and Glastonbury.
Radiohead has in the past played benefits for Tibetans' rights and Amnesty International and the battle against climate change.
"Since Radiohead campaigns for freedom for the Tibetans, we're wondering why you'd turn down a request to stand up for another people under foreign occupation," the letter from those urging the band to boycott Israel said.
"In asking you not to perform in Israel, Palestinians have appealed to you to take one small step to help pressure Israel to end its violation of basic rights and international law," the letter continued.
"Surely if making a stand against the politics of division, of discrimination and of hate means anything at all, it means standing against it everywhere -- and that has to include what happens to Palestinians every day," it said.
The letter, in addition to Waters, was also signed by novelists Alice Walker and Hari Kunzru, Thurston Moore of U.S. alternative rock pioneers Sonic Youth and Nick Seymour of Australian rockers Crowded House.
Retired bishop and Nobel Prize-winning anti-apartheid campaigner Desmond Tutu also signed the letter.
Waters is notorious for his efforts to delegitimize Israel. He has repeatedly condemned his colleagues who associate with Israel.
Waters has in the past compared Israel to Nazi Germany, saying in an interview, "The situation in Israel/Palestine, with the occupation, the ethnic cleansing and the systematic racist apartheid Israeli regime is unacceptable."
He previously released a giant balloon pig bearing the Star of David during a concert in Belgium. Concert-goers said the Jewish star was among several symbols representing various corporations and fascist movements.
In November, Waters wrote an open letter to electronic music duo The Chemical Brothers, urging them to cancel a concert in Israel.
Other artists he has attacked include Jon Bon Jovi, Alan Parsons, the Rolling Stones, Neil Young and actress Scarlett Johansson.
While the cultural boycott campaign against Israel has had mixed success, with artists such as Stevie Wonder, Carlos Santana and Lauryn Hill cancelling shows in Israel, plenty of major names have performed in Israel.