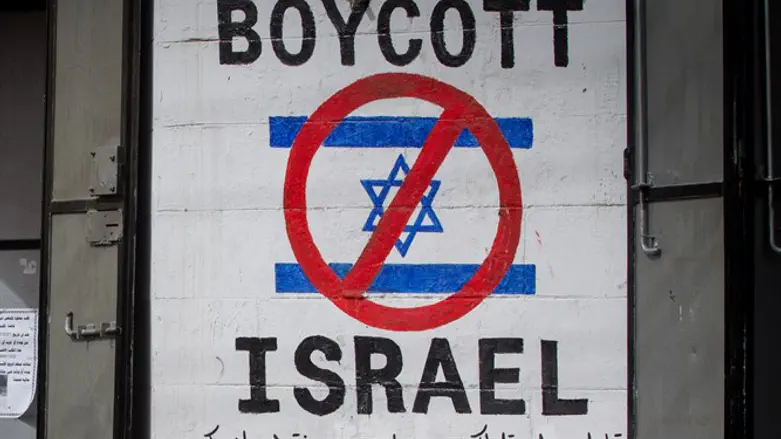 BDS graffiti sign
Photo: Miriam Alster / Flash 90
JTA - A retailer in the Australian North Queensland city of Cairns displayed a sign in its window saying that it does not serve Israelis.
Israeli tourist Mohr Wenger posted a photo of the sign in the window reading "No Israelis served here" on Facebook.
Wenger wrote in her post that she and a friend with whom she was traveling around Australia entered a body piercing store to have their noses pierced only to be told by the owner that he would not serve them since they were from Israel.
The owner of the Cold Steel Piercing store told the women that "he doesn't serve Israelis out of principal (sic). He said he doesn't agree with what our government does and there for we are not welcomed in his shop. He even pointed out a sign that we missed saying 'No Israelis served here,'" Wenger wrote.
"A sign that means 'I don't want to listen, I don't care who you are but if you are from Israel go away.' That's sugarcoating anti-Semitism. That's sugarcoating racism," she also wrote.
Wenger also wrote: "I remember learning about such things in history class but I never thought I would be in such a situation myself. Not alone at the other end of the world in the land of 'no worries.' By the way, when we left the shop he told us 'no worries.' Well I didn't, before I met you."
Fairfax Media reported that Cold Steel Piercing in Cairns did not respond to attempts to talk to them about the incident. Since the Facebook post on Saturday, more than 100 negative reviews of the business have appeared online, including one calling for people to boycott the shop.
Cairns-based Rabbi Ari Ruben told JTA: "Mohr is one of the Israelis that came to our Seder. A couple of Israelis here saw the sign and want to go tomorrow to confront him…and we'll see if it's still there tomorrow."