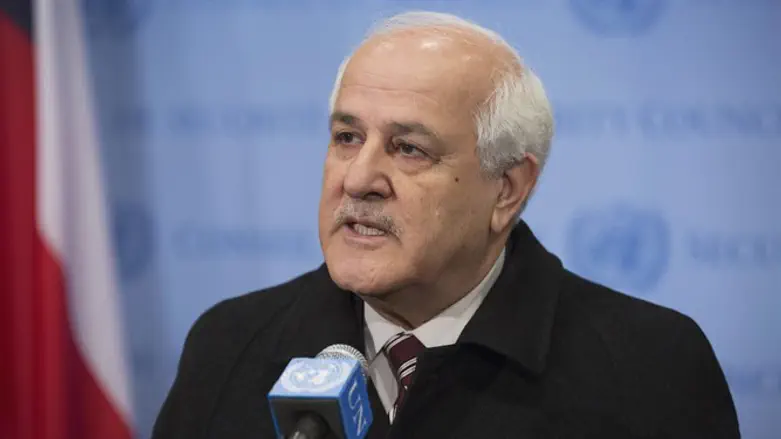 Riyad Mansour
Reuters
The Palestinian Authority (PA) envoy to the UN on Thursday urged the International Committee of the Red Cross (ICRC) to intervene to help end the hunger strike by terrorist prisoners in Israeli jails.
Speaking to the UN Security Council, Ambassador Riyad Mansour said that the ICRC can play a "facilitating role" to avert "the dangerous consequences of a deterioration of this situation."
The terrorist prisoners, led by archterrorist Marwan Barghouti, launched the hunger strike on Monday to press demands such as better medical services and access to telephones.
By Thursday, however, the hunger strike showed signs of weakening, when roughly 100 of the 1,000 participating security prisoners and convicts broke the strike to eat.
Some prisoners engaged in the hunger strike were revealed to have concealed quantities of sugar and salt, which they were consuming in small amounts to enable them to maintain the appearances of the strike, a senior security official told Arutz Sheva.
Jailed terrorists have often used hunger strikes as a pressure tactic aimed at forcing Israel to improve the conditions of their imprisonment or release them out of fear for their lives. Israel has several times in the past caved to the pressure and released some hunger strikers.
Some 1,550 Palestinian Arabs imprisoned in Israel ended a hunger strike in May 2012, in exchange for a package of measures which would allow visits from relatives in Gaza and the transfer of detainees out of solitary confinement.