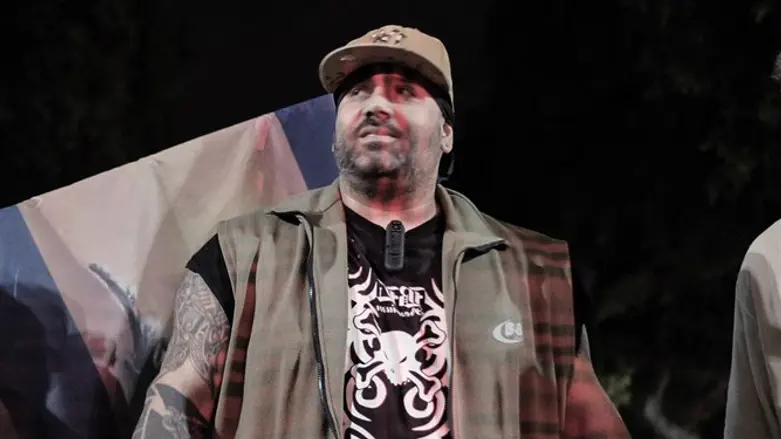 Hatzel
Tomer Neuberg/Flash 90
The far-left Meretz party filed a police report against a right-wing Israeli rapper on Thursday, accusing him of incitement against the party and other radical leftist organizations.
Rapper Yoav Eliasi, known by his stage name "The Shadow" (Hatzel), is known for his outspoken nationalist views and has been a frequent target of the Israeli left.
In the complaint filed Thursday morning at a Tel Aviv police station, the Meretz party accused Eliasi of incitement to violence, claiming that a picture uploaded to his Facebook account encouraged fans to target Meretz and far-left NGOs.
Picture from Eliasi's Facebook account
Twitter/Screenshot
The image shows an assault rifle marked with the PLO flag and inscribed with the word "Arabs" in Hebrew, with five ammunition magazines underneath bearing the logos of radical left-wing and anti-Zionist groups including the anti-IDF activist organizations B'Tselem, Breaking the silence, and Yesh Din. In addition, the leftist newspaper Haaretz is listed, along with the Meretz party.
"Yoav Eliasi casts a shadow over the rule of law," said Meretz Secretary-General Mosi Raz. "We've seen in the past where incitement leads."
"We need to do whatever is necessary to enlist the powers of the police and the justice system on this issue. If The Shadow's growing incitement isn't stopped, we are liable to see history repeat itself," Raz continued, making a veiled allusion to the assassination of Prime Minister Yitzhak Rabin in 1995.
Eliasi denied the accusation, however, writing on Facebook Thursday afternoon that the Meretz faction was deliberately misinterpreting the previous post's meaning in an attempt to garner attention.
"As usual, Meretz is indulging in their national pastime, which is to file complaints against The Shadow whenever they don't like the truth."
The image, Eliasi said, was clearly not a call to violence but a reflection on the Israeli left's service to the PLO cause.
"Meretz and left-wing organizations are the ammunition in the hands of our enemies, and that is the only idea conveyed by the picture; any attempt to distort its meaning into something else is totally dishonest, and I never ever called to physically attack any of these groups."