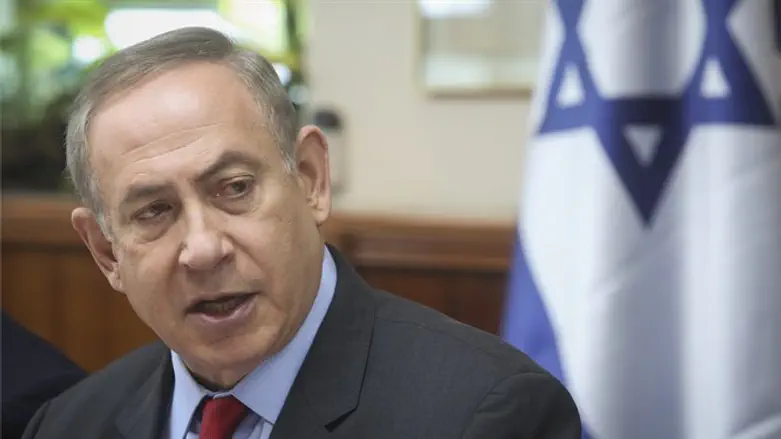 Binyamin Netanyahu
Marc Israel Sellem/POOL
Prime Minister Binyamin Netanyahu participated Tuesday in Mimouna celebrations in Dimona and attacked the publication of an article by arch-terrorist Marwan Barghouti in the New York Times.
The newspaper omitted the mention of the fact that Barghouti is a terrorist and murderer, convicted in civil court for 5 murders, who led a terror organization responsible for the deaths of many Israelis. Instead it described him as a a "Palestinian leader and parliamentarian". After an uproar broke out, the newspaper finally published a tepid clarification in which it stated that "This article explained the writer's prison sentence but neglected to provide sufficient context by stating the offenses of which he was convicted. They were five counts of murder and membership in a terrorist organization. Mr. Barghouti declined to offer a defense at his trial and refused to recognize the Israeli court's jurisdiction and legitimacy."
Netanyahu stated that "I read the article in the New York Times Sunday which presented arch-terrorist Barghouti as a 'leader and parliamentarian.' The newspaper only retracted after we objected to this characterization," said Netanyahu and added "calling Barghouti a political leader is like calling Assad a 'pediatrician.' Syrian dictator-tyrant Bashar Assad was trained as a physician.
"These are murderers, these are terrorists and we have not lost our conviction that we are on the right side, the moral side and they are on the wrong side, the immoral side."
The prime minister added that "this moral clarity, the willingness to protect our land, to fight for it against those coming to wipe us out, this is one of our great strengths, together with love of Israel. Love of Israel expresses itself in this munificence, in this beauty and warmth. We will continue to develop our country and protect it."
Barghouti is leading a hunger strike of 700 terrorists imprisoned in Israeli jails which broke out Sunday. Interior Security Minister Gilad Erdan said this morning to Army Radio that "the isolation and transfer of Barghouti to a jail in the north is unconnected to the publication of the article, but rather due to his leading the hunger strike and causing a rebellion among prisoners."
"I do see the publication of the article as a serious act and I have directed the Prison Service to conduct an investigation and transfer the results to me," said Erdan.