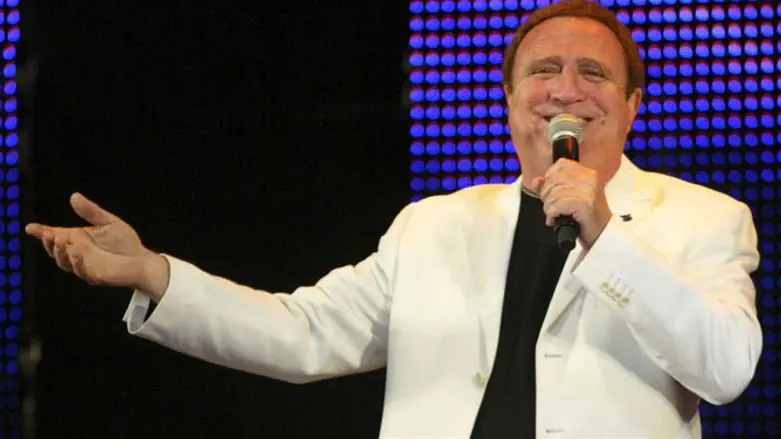 Yehoram Gaon
Flash 90
Mobileye founder Professor Amnon Shashua, singer and performer Yehoram Gaon and Wiesenthal Center dean Rabbi Marvin Hier are among the 12 people nominated to light the torches at the traditional Independence Day torch ceremony at Mount Herzl, according to a Yediot Aharonot report.
The committee is expected to publicize the entire list Tuesday after it is approved by Minister of Culture and Sport Miri Regev, who is also the head of the ministerial committee for ceremonies and symbols. Regev initiated the central subject of Independence Day, "Jerusalem the eternal capital of the State of Israel and the Jewish nation."
Yehoram Gaon (77), one of the most revered singers and performers in Israel, has been chosen as one of the iconic symbols of the city of Jerusalem. Gaon was born in Jerusalem and has participated in numerous compositions which defined the country's cultural moments, including the movie "Kazablan", "Operation Jonathan" and the autobiographic movie "I am a Jerusalamite". He has also appeared in numerous television series.
Amnon Shashua (57) is a professor of computers in the Hebrew University, Jerusalem,co- founder of Mobileye and c-founder of Oracam technologies. He and his partner Ziv Aviram recently sold their Mobileye company for 15 billion dollars in the largest hi-tech deal ever in Israel.
Rabbi Marvin(Moshe Haim) Hier (78) will be the first torchlighter who is not a citizen of Israel in accordance with the decision of Regev to devote one torch to the Jewish nation. Hier, the dean and founder of the Simon Wiesenthal Center, its Museum of Tolerance and of Moriah, the Center's film division, was invited in January to participate in the inauguration ceremony of President Donald Trump. Hier concluded his address at the ceremony with the words "If I forget thee Jerusalem, may my right hand forget its skill." Hier was also chosen for his decision to establish the Museum of Tolerance in Jerusalem.