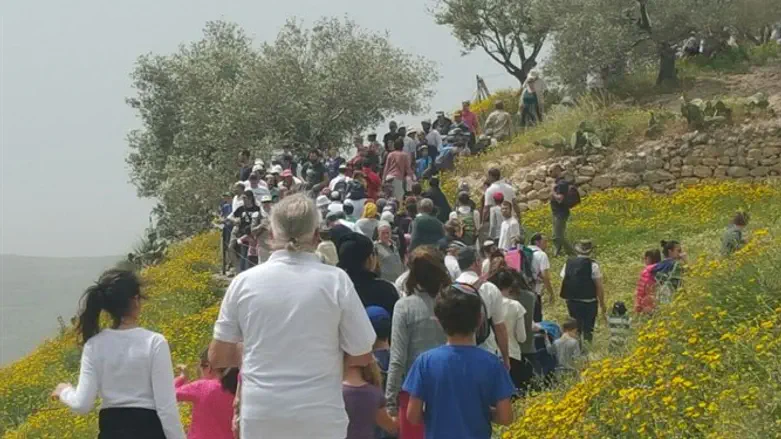 Touring the Shomron, today.
Shomron Regional Council
The murky weather has not deterred tens of thousands of tourists today, who came to visit tourist sites throughout Samaria.
The most popular tourist sites were the National Park on Mount Gerizim, the ancient Samaria National Park, and the State Terrace Festival.
Among the tourists were visitors around the world, including China, France, and other countries.
Yossi Dagan, head of the Shomron Regional Council, said: "It is exciting to see tens of thousands of secular and religious travelers from Israel and around the world exploring the tourist and Bible sites in Samaria. The Shomron Regional Council and the Shomron Tourism organization will continue to spend nights and days making Samaria into a magnet for tourists from Israel and around the world."
Tomorrow, festivals and events are to continue throughout the region. The tourist sites, the springs, the guest cabins, and the wineries will be open to the general public.
Tomorrow there will also be a spring celebration marking the 50th anniversary of the Battle of Emek Dotan in Mevo Dotan in northern Samaria.
The Samaria Exploration and Study Center Bishvilenu will conduct free tours in northern Samaria. The National Parks Mount Gerizim and Old Samaria will also hold special events tomorrow.
Alos tomorrow, there will be a sunset show by Ariel Zilber in Peduel to sum up celebrations of the State Terrace Festival.
On Isru Chag the seventh Shomron Conference will mark the 40th anniversary of tourism in Judea and Samaria.