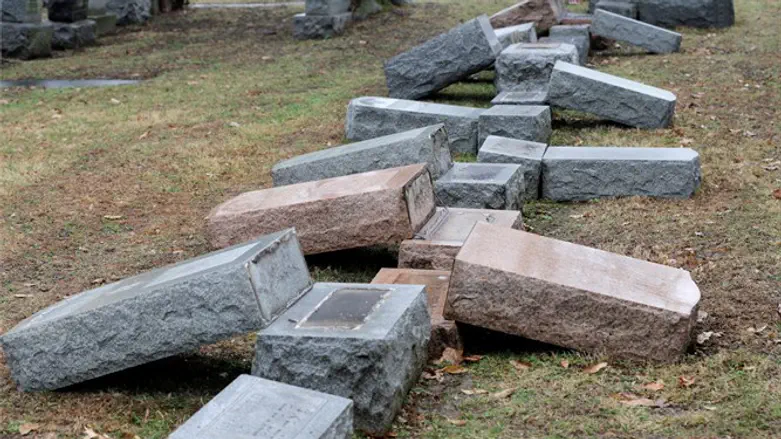 Toppled headstones at Chesed Shel Emeth Cemetery
Reuters
Springfield, Pennsylvania authorities are investigating an attack on a Jewish cemetery in which 30 headstones were vandalized.
On Friday, Springfield resident Mora Ezra discovered the vandalism while visiting Mt. Sharon Cemetery to pay respects to her father. However, it is not clear when the vandalism actually occurred.
Photos taken show headstones broken in half or pushed over.
However, local police said they have no proof the damage was caused by vandalism.
A Springfield police officer said the gravestones fell "by natural causes" and said the cemetery claimed reasons include "environmental factors, age, trees and bush removal."

"We're still in communication with the cemetery. We're taking anything like that seriously," Springfield police Sergeant Pat McKenna said Saturday. "They're giving us a variety of reasons. There are no other factors that would lead us to believe it's vandalism.
"They're going out there and doing their due diligence" to repair the grave sites, McKenna said of the cemetery owner. Attempts to reach the cemetery owner were unsuccessful."
In February, dozens of Jewish graves were vandalized at a Philadelphia cemetery.
The sabotage spree comes a month after nearly 100 graves were toppled at another Jewish cemetery in Pennsylvania. A week before that, more than 150 Jewish gravestones were broken or tipped over at a cemetery in St. Louis.