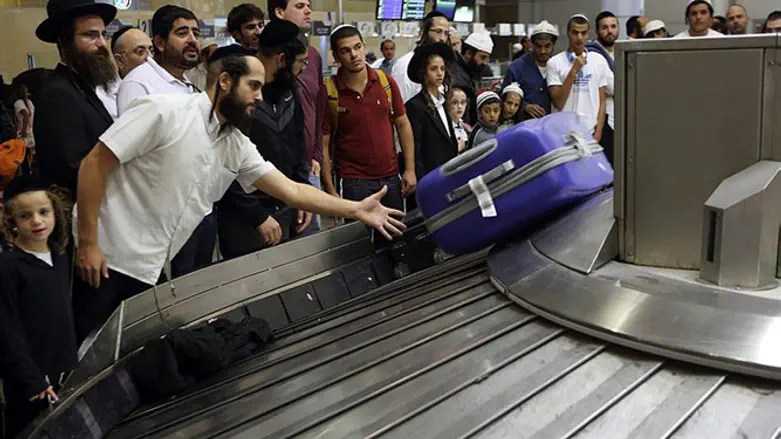 Haredim at airport
Flash 90
After disrupting movement on the country's roads, especially but not only in the Jerusalem area, haredi protesters against recruitment and cooperation with military authorities are moving up a level ahead of Passover and mobilizing to demonstrate at Ben Gurion airport.
The "Committee for the Torah World" has decided to disrupt movement of Israelis leaving and entering the country during the days before Passover and even during the holiday.
The organization committee makes it clear that the aim of the demonstration is to expose the entire world to the ongoing ruination inflicted by the State of Israel on haredi human and religious rights.
The organization's announcement, published in the haredi magazine Hakotarot states: "In view of the escalation of government harassment of prisoners of the Torah community, it was decided to broaden the protest so that it will reach the ears of the entire world. In order to send a message to the countries of the world, mass protest measures will be held in the area of the airport in front of foreign tourists arriving in Israel and returning to their countries. Protest signs in English and other languages will wave. Due to the expected traffic congestion in the area of ​​Ben-Gurion Airport during the protest events, passengers are advised to follow up on announcements that will be published in the next few days so that they can change the date of their flight or, alternatively, arrive many hours early to the airport before the traffic problems are created in the area."
The announcement also stated that "if the early publication, intended for the benefit of the public, will lead to hostile deployment in the area that will interfere with and prevent protest measures, we will be forced to carry out the protest at different times without notice."
Apparently the intention is to arrive at the airport posing as tourists or prospective passengers, and simultaneously to commence the demonstrations to unleash mayhem at the airport.