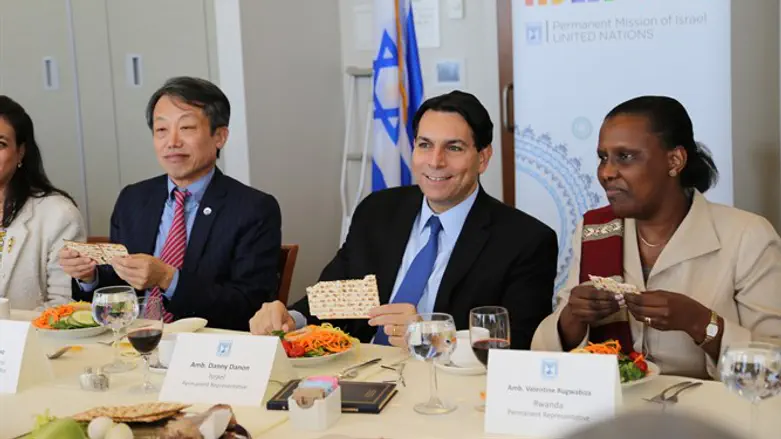 World Ambassadors around Seder table with Danon
Israeli UN Delegation
Israel's ambassador to the United Nations, Danny Danon, held a Passover Seder at the UN with the participation of dozens of ambassadors from various countries.
Danon told the ambassadors about the meaning of the Passover holiday and explained to them the holiday's customs. Afterwards, ambassadors read excerpts from the Haggadah and ate the traditional holiday dishes.
Ambassadors from around the world and from five continents attended the event, among them ambassadors from Germany, Britain, Australia, India, Singapore, Vietnam, Ethiopia, Colombia, and Jamaica attended the event.
This marks the second year that Danon is conducting such an event and the intention is to establish it as a tradition that will continue with future ambassadors.
Danon told his guests, "The meaning of the Passover holiday is universal and more relevant that ever even today; this is the time when we celebrate the values ​​of liberty and freedom.
"During Passover we tell of the departure of the Israelites from Egypt and the beginning of their journey to the Land of Israel. Years later, the Jewish people once again won their freedom with the establishment of the State of Israel in its historic homeland," added the Israeli ambassador.
Malcolm Hoenlein, Executive Director of the Conference of Presidents, said at the event: "This Jewish tradition has universal meaning and its message has inspired people of all religions and peoples for centuries. The departure of the Jews from slavery in Egypt to freedom in their homeland reminds us that the struggle against tyranny, fanaticism, and anti-Semitism is renewed every generation."