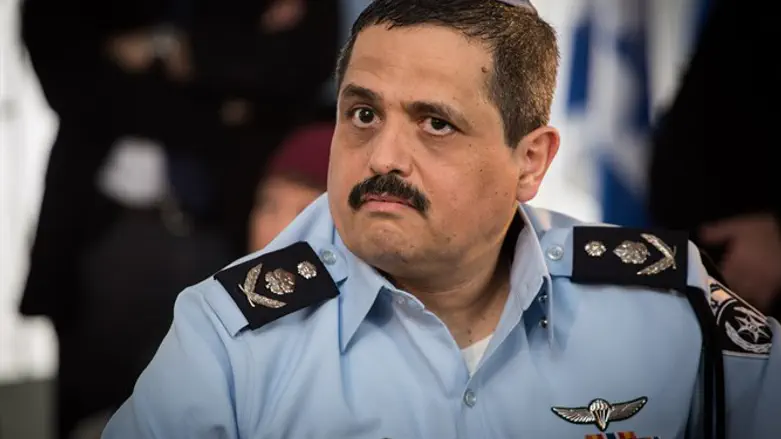 Roni Alsheikh
Hadas Parush/Flash 90
A female police officer who claims she was sexually harassed by Major General Roni Ritman, the head of the Lahav 433 unit, submitted a libel suit Tuesday against Police Commissioner Roni Alsheikh. The officer us suing Alsheikh for 138,000 NIS after he allegedly called her a "criminal" during the course of a meeting with senior police officers.
The decision to submit the libel action was taken after the Police Commissioner was quoted as reportedly saying that there are people with vested interests who wish to harm the Lahav 433 unit and its director.
Attorney Hai Barel representing the officer wrote in the plaintiff's claim that "it is well known to Alsheikh that the plaintiff has never been accused of crimimal activity, has certainly never been indicted for criminal activity and the term 'criminal' can only be described as libel. It is clear that this is no slip of the tongue or statement made in good faith by Alsheikh but rather an intentional effort to harm the plaintiff by insulting and humiliating her.
"Alsheikh's words have no factual basis and are slanderous and derogatory. The act is worse when it is perpetrated by the Police Commissioner who is is charge of implementing the law in Israel," said the claim. "When the Police Commissioner calls a person a 'criminal', the matter has more significance. This is no man in the street, whos words may be taken with circumspection, but rather the person in charge of Israel's police whose job is to catch criminals who committed crimes and bring them to justice. When the matter refers to crimes of sexual nature it is even more serious.
"The Police Commissioner expressed himself in a harsh and misleading way towards the victim of a sex crime, even though his job is to defend the victims of sexual crimes and not harass and humiliate the victims themselves. Alsheikh's statement caused the victim to suffer in her police work and could also prevent her attaining work outside the police," concluded the attorney in his plaintiff's claim.
The police response to the claim has not yet been received.