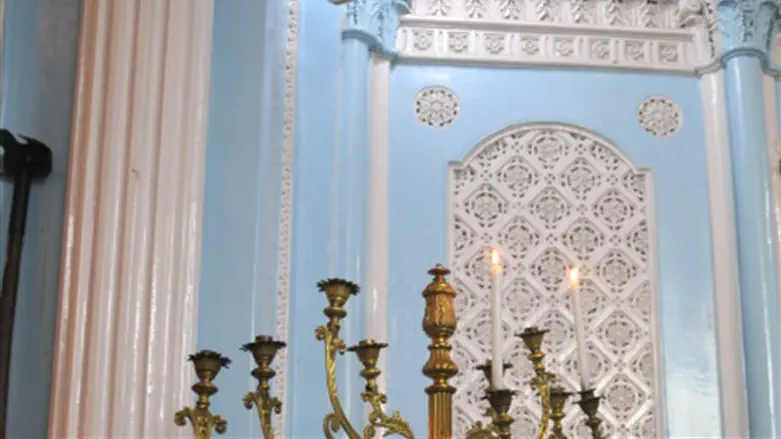 Synagogue
Flash 90
Eugenia Unger, who usually displays the number tattooed on her arm by the Nazis, covered it with her Shabbat clothes and when she celebrated her bat mitzvah, 79 years late.
Unger, 91, born as Eugenia Rotsztejn in Warsaw, Poland, on March 30, 1926, was identified by the Nazis during the World War II as number 48914. Now she often talks about her experiences and shows the number on her arm to students due to her involvement with the Buenos Aires Holocaust Museum. She also attends school conferences to talk about the Holocaust.
Unger celebrated her bat mitzvah on Shabbat (Saturday) at the Herzliya Jewish Community Center and synagogue in Buenos Aires.
She told the Argentinean radio program, Radio Cultura on Thursday of her upcoming celebration that "the culmination of my whole life is my bat mitzvah; it is a ritual that is very important in Jewish life."
The community center also organized a birthday celebration for Unger on Friday night.
Unger lived in the Warsaw Ghetto as a teen and was later taken to the Majdanek and Auschwitz Nazi camps with her family, including her parents, two brothers and a sister. Unger is the only member of her family who survived the Holocaust. When she was liberated by Soviet forces, she weighed slightly more than 59 pounds.
After a journey across central Europe, she lived for two years in a refugee camp in Modena, Italy, where she met David Unger. Both immigrated to Argentina in 1949.
She was part of the group that founded the Holocaust Museum of Buenos Aires in 2000.
Today Unger has two sons and six grandsons, and has written three books about her experiences. In 2011, she was declared Outstanding Personality by the Buenos Aires city parliament.