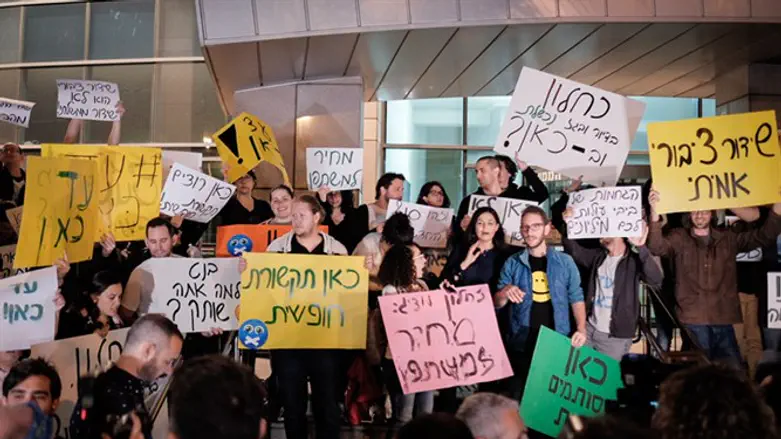 Protesting the new plan
Tomer Neuberg/Flash90
Histadrut Labor Union Chairman Avi Nissenkorn has announced a work dispute for all Israeli employees in the public sector.
Among those involved in the work dispute are government-owned companies.
The reason for the dispute is the plan to reform the Israel Public Broadcasting Corporation (IPBC) and split it into two. This plan raises concerns about future IPBC employees' job security.
The Histadrut emphasized that despite the fact that these changes have significant impact on workers' rights, the workers' chosen representatives were completely ignored during the decision-making process.
They also said the Israeli government abused Israel Broadcasting Authority (IBA) employees and incited the two groups of employees against each other.
In accordance with Nissenkorn's directive, the past two weeks have seen solidarity parades, with Israeli workers supporting IBA workers. These parades caused severe disruptions to both traffic and government ministries and offices. Among the minisries targeted were the Transportation Ministry, the Welfare Ministry, the Education Ministry, the Construction and Housing Ministry, and the Economy Ministry. In addition, the Tax Authority, the Enforcement Authority, and rabbinical courts.
Last Thursday, Netanyahu and Kahlon agreed to split the IPBC into two separate corporations, with the IPBC ceding its news division to the Israel Broadcasting Authority.