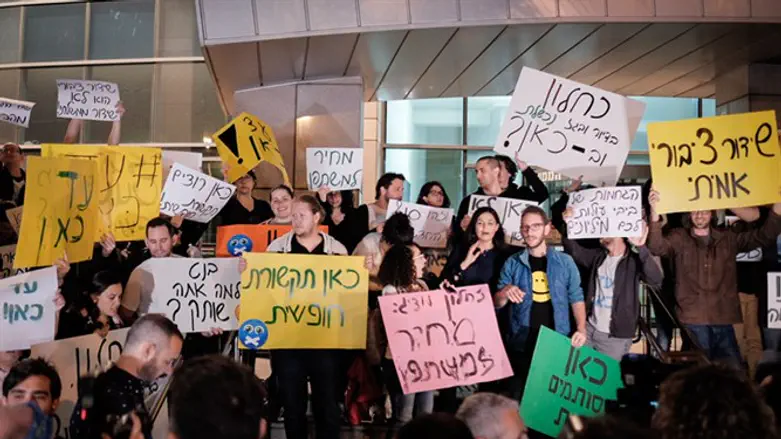 Protest outside David Bitan's home
Tomer Neuberg/Flash90
Dozens of Israel Public Broadcasting Corporation (IPBC) workers protested on Saturday evening outside Coalition Chairman David Bitan's (Likud) home in Rishon Lezion, and clashed with him at the entrance to his building.
"You should be ashamed of yourself, you're corrupt!" the protesters said. "You're the enemy of democracy and freedom of expression. The Israeli public will hold you accountable for this, and history will judge you!"
In response, Bitan said, "You're bullies. I didn't trick anyone. And I didn't see any of you worried about the fact that 1,500 Israel Broadcasting Authority employees were fired."
Earlier on Saturday evening, hundreds of IPBC workers protested outside the government complex in Tel Aviv, blocking traffic at Azrieli Junction for several minutes.
Although the IPBC was not yet officially created, people were hired. Since the compromise between Israeli Prime Minister Binyamin Netanyahu and Finance Minister Moshe Kahlon (Kulanu) forms a new entity for news service, the pre-hired employees are out in the cold.
On Thursday, Netanyahu and Kahlon agreed to split the IPBC into two separate corporations, with the IPBC ceding its news division to the Israel Broadcasting Authority.
The deal also stipulates that the Finance Ministry would be responsible for the retirement arrangements of the current employees of the IBA who will not continue after the new corporations are formed.
In addition, the Communications Control Law will be frozen and will not be promoted at this stage.