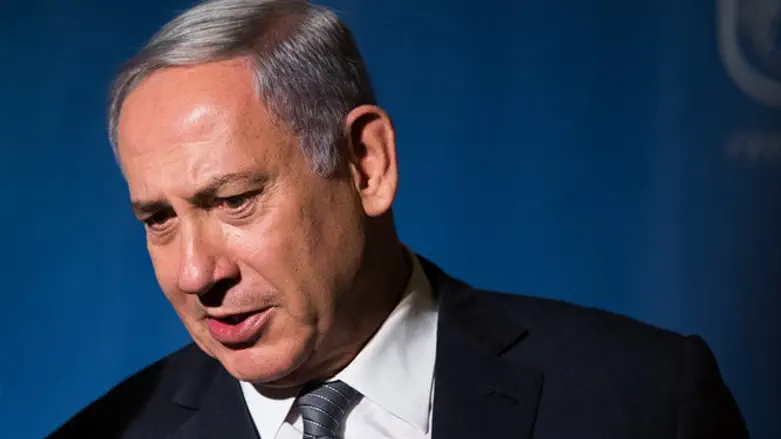 Binyamin Netanyahu
Yonatan Sindel/Flash 90
Prime Minister Binyamin Netanyahu related Thursday at the opening of his meeting with the President of Slovakia to the establishment of a substitute town for the former residents of Amona.
"I promised that we would establish a new town, I believe I gave the first commitment in December, and we will establish it today. There are several more hours, and you will know all the details later."
Amona Staff activists related earlier to reports that the cabinet will convene today for a vote tonight on the establishment of a new town for Amona.
"We demand in advance from the PM and cabinet ministers to unanimously support the establishment of a new town, including the granting of a town symbol, and in the location specified by the residents," they said.
"We are clearly aware that the establishment of a neighborhood next to an already-existing town does not constitute a new town as laid out in the agreement with us, and that such a decision opposes the agreement. As such, we will not cooperate with it," they added.
They continued, "If the decision to establish of a new community is not made today, it will constitute a breach of the government's obligations beyond low public standard and will establish that agreements are not worth the paper that they're written on. In that case, we will be compelled to use all legal means at our disposal. You destroyed - now build. You committed to begin the establishment of the new community by March 31 - fulfill the agreement, a day before it expires."
The Staff also related to reports that the establishment of a new town is contingent upon limitations on building in Judea and Samaria, and that it damages settlement. "One must not link, in any way, the building of a new community with the debate about building in Judea and Samaria and Israel as a whole. There is an agreement, and it must be kept. In parallel, there is a political discussion about how much to build in Judea and Samaria and where to build. Creating a paradoxical equation whereby the establishment of a new community comes at the expense of building is a manipulation - no less. The members of the cabinet must deny this and the placement of this assumption at the core of the discussion. Just as Amona must be rebuilt as soon as possible, so life and building must be added in Judea and Samaria, and all of the land of Israel."