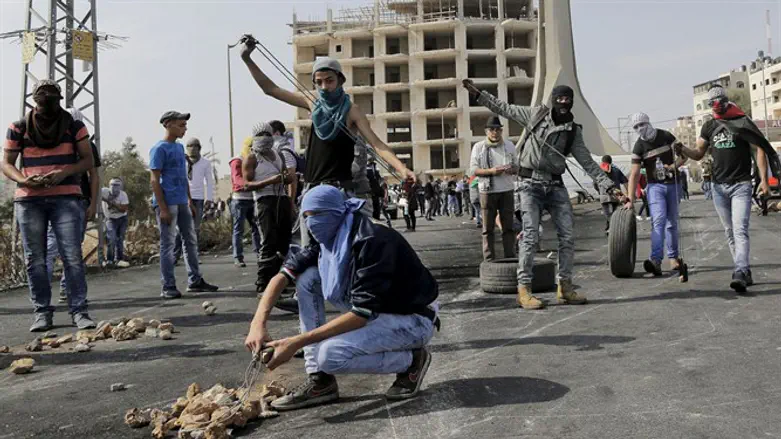 Ramallah riots
Reuters
The families of those killed in the barbaric lynching in Ramallah in 2000 are furious at the decision of the military court to release Hatem Maghari, one of the perpetrators of the murder, after a retrial.
The lynching took place after two reserve soldiers made a wrong turn and reached a PA roadblock. Instead of being turned back by the PA police, they were taken to the police station in the city of Ramallah-El Bireh, where they were brought upstairs, tortured, mutilated, and murdered, although there were over 20 police officers in the building. A mob of over a thousand Palestinian Arabs stood outside and cheered when one of the murderers raised his bloody hands to the window, in a photograph later seen round the world, despite PA bullying and threats to keep it from being published.
Roi Avrahami, the son of Yosef Avrahami, who was murdered in the lynch, spoke Thursday morning with Effi Tregger on Army Radio about their outrage.
"I am optimistic that our defense establishment will 'close accounts' with him - I do not know when and I do not know where," said Roi. "I am disappointed that the system did not bother to call my mother and tell her that this is what is happening."
Following the court's announcement, murdered soldier Vadim Nurzhitz's sick mother Anna decided to start a hunger strike. Abd al-'Aziz Salha, the murderer of her son, was released six years ago as part of the Shalit deal.
Mughari was convicted yesterday as part of a plea bargain for the offenses of assaulting a soldier and failing to prevent an offense. He was sentenced to 11-and-a-half years in prison, so that he actually spent four years in jail, not in the context of the renewed sentence.
The court ruled: "According to the indictment that was filed today, the defendant was a small part of the incident; he beat the soldiers on the way to the police station, but was not among those who attacked the soldiers inside and caused their deaths."