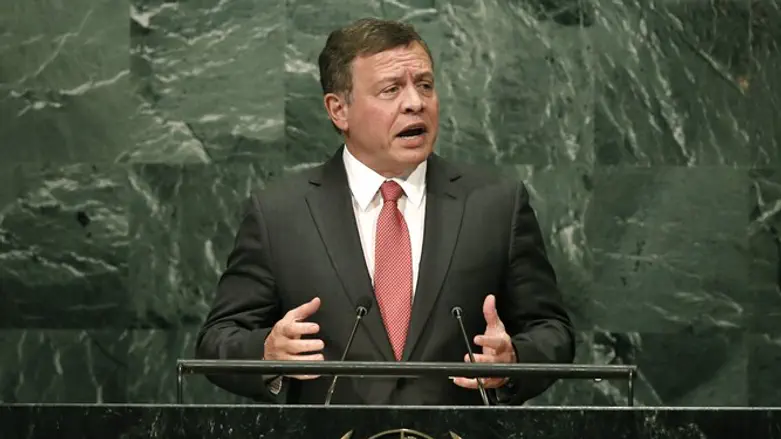 King Abdullah II of Jordan
Reuters
Jordan's King Abdullah on Wednesday said that peace would not be attained in the Middle East without the creation of a Palestinian state under a two-state solution that would be the basis of a comprehensive Arab-Israeli peace deal.
Speaking at the start of the Arab Summit and quoted by Haaretz, the Jordanian king accused Israeli "settlements" of threatening to upend any opportunity for a peace deal based on the principle of two states for two peoples.
"Israel is continuing to expand settlements and wreck chances of peace ... There is no peace or stability in the region without a just and comprehensive solution to the Palestinian cause through a two-state solution," the king said, according to the report.
King Abdullah added that Jordan, in its historic role as the guardian of holy Muslim sites in Jerusalem, will not allow any harm to come to the Al-Aqsa Mosque.
He warned that any "unilateral" Israeli move to change the status quo would have "catastrophic" consequences on the future of the region.
Arab leaders said in a statement released at Wednesday's summit that the Arab world is ready promote a peace agreement with Israel on the basis of the 2002 Arab peace initiative.
The Arab peace initiative, unveiled in 2002 and re-endorsed at the 2007 Arab League summit, says that 22 Arab countries will normalize ties with Israel in return for an Israeli withdrawal from Judea and Samaria.
Israel to date has rejected the plan due to the fact that it calls for Israel to accept the so-called "right of return" for millions of descendants of Arabs who fled pre-state Israel, effectively bringing an end to the Jewish state.
Saudi Arabian Foreign Minister Adel al-Jubeir last year said the initiative is the best solution for the conflict, and rejected Prime Minister Binyamin Netanyahu's demand that the initiative be updated.