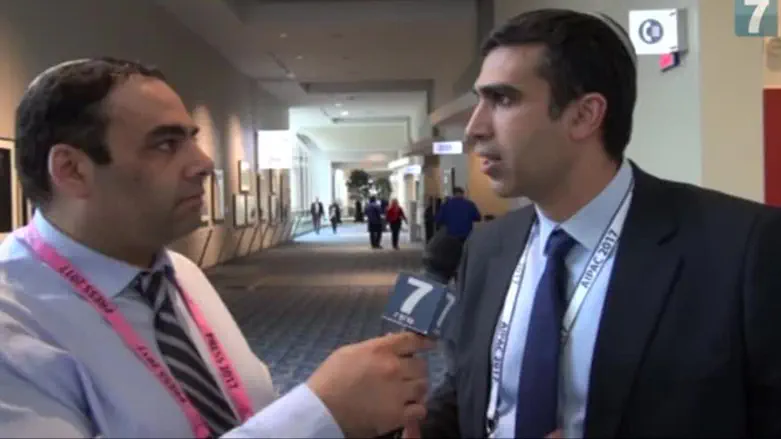 Yoni Chetboun
Arutz Sheva
Former Knesset Member Yoni Chetboun tells in an interview to Arutz Sheva about the purpose of his visit to the United States, where he is participating in the AIPAC conference.
Asked whether his presence at the conference hints at political intentions, he replied that the goals of his visit and his participation have to do with security, and less so politics. When the cameras shut down in the closed rooms, things are said differently. There one hears "both official representatives in US politics and Israeli representatives, and you see how everything moves to the right.
"You hear how the idea of ​​a Palestinian state in past AIPAC conferences was part of the consensus and the central discourse. At the current conference, they understand that the idea has died, this idea has collapsed, and now we're thinking how to move forward, and here is where you now find the nuances of right and left. The bottom line is to see how Israeli society is turning rightward, and the entire world, following terrorism, moves to the right in terms of the need to strike at terror and that the idea of ​​a Palestinian state can not be relied upon. It is time we raised this flag without any connection to security and say this is our land."
As for his relationship to the Trump administration, Chetboun was careful not to make over-dramatic statements. "You can see from the meetings with Jason Greenblatt and with Ambassador Friedman that there are very clear statements about Judea and Samaria, and my caution does not relate to the Trump government, but rather to us. The time has come for the State of Israel to develop a strategy both in terms of values ​​and security in relation to Judea and Samaria, and today it is possible to say things that could not be said in the past - to apply sovereignty in Judea and Samaria, to develop, and especially to build."
As for what is happening in the political arena, Chetboun says that as a citizen who is not a Knesset member, he can say that elections every two years are not a good thing. "I see what it means when ministers and bureaucrats change every two years, it's neither good nor healthy."
As for his personal intentions in the political realm, he says that he intends to return to public and political life. "As soon as I see that I can influence, I will declare it openly: I am not concerned with the issue of returning through the Jewish Home party or in some other way. I intend to return to public life, but not at this stage."