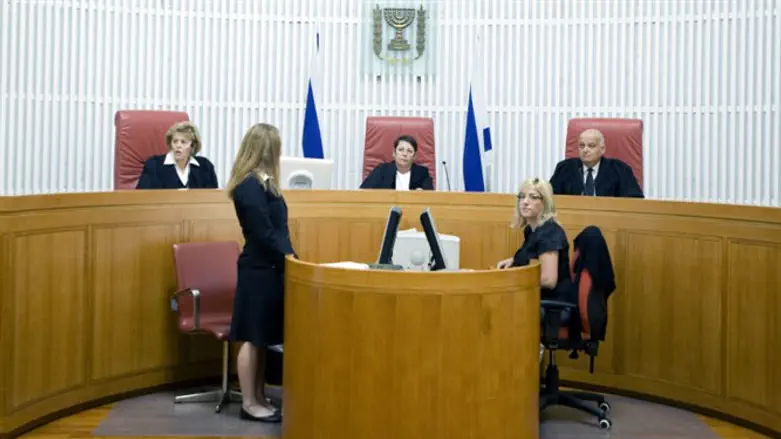 Israel Supreme Court justices
Photo: Flash 90
Israeli judges are threatening their first strike in the country's history if their demands to improve their terms of retirement are not met, Yediot Ahronot reported Wednesday morning.
For the first time ever, the central committee of the Israel Bar Association, along with the Attorney's Association of Judges, have voted in favor of a strike, pledging to shut down Israel's judicial system if a recent report recommending more favorable retirement benefits is not adopted.
The central demand made by the judges' association and the Bar Association is for the pension plan to revert from the private, cumulative pension system adopted several years ago back to the tax-funded public pension plan used in the past.
Under the present system, judges and other court employees, like employees of private companies, pay into a retirement fund along with their employer – in this case, the government. In other words, both the judges and the government share the cost of funding the pensions.
Now representatives of the judges' association are demanding the state fully fund their pensions; increasing the burden on taxpayers while effectively increasing the monthly incomes of judges.
Effi Naveh, chairman of the Israel Bar Association, told Army Radio on Wednesday that the threat by prosecutors to shut down the judicial system after the Passover holiday was serious.
"Just try us and see," he said. "After two or three days of striking you'll see how suddenly they [the government] will respond to this. This isn't even a matter of a lot of money; this is something like 50 million shekels ($13,820,000) a year."