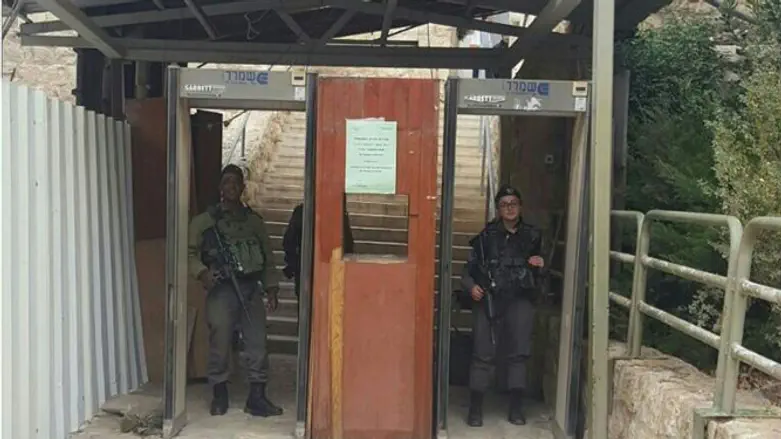 Part of Hevron security system
Police Spokeswoman
The many visitors and worshipers who arrive at the Tomb of the Patriarchs have recently encountered a new inspection structure built in recent months at the cave's entrance.
The new building includes a complex system of electric gates, magnetometers, fences, and a turnstile for the exit.
Large amounts of money have been invested in the ornate system, but according to sources in the Jewish community in Hevron it is liable to pose considerable difficulties for Jews entering the Cave.
According to them, measuring the narrow gates and the distances between the electric gates shows that the narrowest point measures less than 20 inches, and a narrow gate of such width will make it difficult for older and wider people, on anyone who comes with a bag or a backpack, and certainly on anyone with restrictions like crutches or a walker.
"The system is indeed impressive and much was put into it," said Noam Arnon, Spokesman for the Jewish community in Hevron. "But it's a superfluous investment, and moreover, the small entrances and the surplus of electronic installations will pose a significant bottleneck for the mass of Jewish visitors to the Cave of the Patriarchs - whose numbers on holidays reach tens of thousands - on the way in and on the way out."
The Jewish community continues to wonder why the State of Israel can build such an expensive system, which covers a considerable area, but on the other hand does not allow the construction of an elevator for the disabled, who desperately need help at the entrance to the cave.
According to sources in the Jewish community, for years there were claims that the State of Israel has no authority in the area, and therefore is prevented from constructing an elevator for the disabled, but the construction of the new building proves that it certainly has the power, and it builds large buildings and installations at the entrance to the cave.
"A disabled elevator should occupy a much smaller area - 5% to 10% of the area of the inspection structure. Does the State not hear the cry of the disabled and allow the construction of an elevator (with the funding of private donors!) at the entrance to the cave - in a small area that will not occupy space and will not stand out - that will allow dignified entry for people with disabilities?" the Hevron Jewish community asks.