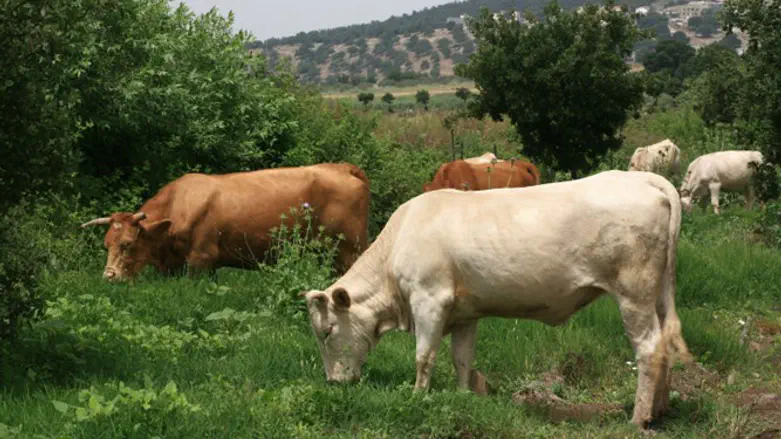 Cows
Flash 90
The government of Paraguay will move to require that more humane ways of restraiining animals for slaughter apply to kosher slaughter by the end of year following the intervention of Israeli and international animal rights activists.
Slaughterhouses will have to stop using the shackle-and-hoist method of slaughter and instead use the method of rotating pens, which is seen as more humane, The Jerusalem Post reported.
The international organization People for the Ethical Treatment of Animals, or PETA, and the Israeli group Anonymous for Animal Rights have claimed victory over the decision, which was made months after the release of an undercover investigation by activists from the two groups that claimed to expose the cruelty of the shackle-and-hoist method in one of Paraguay's largest slaughterhouses.
Forty percent of the beef consumed in Israel comes from Paraguay, which does not export beef to the United States. The practice is not permitted in Israel, which has limited kosher beef slaughter as cattle raising in the small country is a minor industry..
The shackle-and-hoist method is common in slaughter houses in Argentina and Uruguay, which do export to the United States.
The Veterinary Services Department of Israel's Agricultural Ministry was involved in pressuring Paraguay to require new methods of slaughter, according to the Post.
A petition by animal rights groups was filed with Israel's Supreme Court after the investigative report went public, calling on the court to order that meat import licenses require foreign slaughterhouses to comply with Israeli law and other international ordinances and prohibit the use of the shackle-and-hoist method.
In a response to the petition, Veterinary Services said it had informed the governments in South American countries from where beef is imported to Israel that its slaughterhouses should stop using the shackle-and-hoist method.