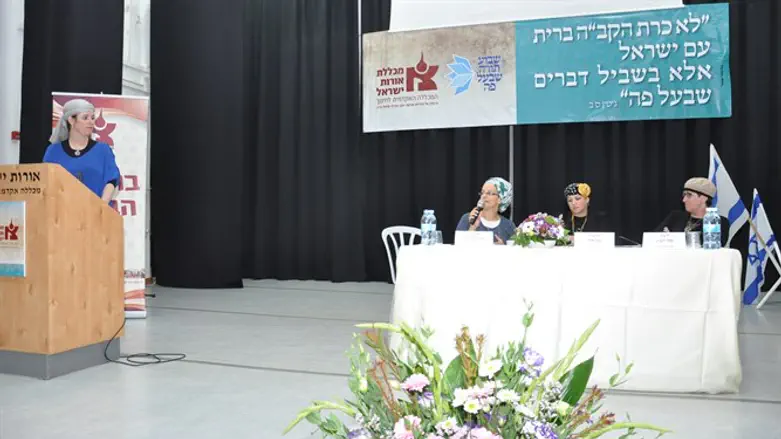 National Conference on Oral Law
Kobi Marsh
Venerable Ramat Gan Chief Rabbi Yaakov Ariel stated that "In our generation women are obligated to study Torah."
The Rabbi was speaking at the National Conference on Oral Law taking place at the Orot Israel campus in Elkana since yesterday. The conference will continue on Thursday and Sunday at the Rehovot campus.
The rabbi gave the concluding words at a panel discussing the study of Torah Shebe'al Peh (The Oral Law) in women's colleges and high schools. The panel was chaired by Dr. Leah Wiesel and included participation of leading female educators Esti Rosenberg, Inbal Melamed and Meirav (Tobol) Kahana.
Rabbanit Rosenberg, the daughter of the late Har Etzion Yeshiva founder Rabbi Aaron Lichtenstein, said that "women must invest in their religious development at least as much as they invest in career development." and added that "we as women must not lower ourselves in comparison to men on the matter of Torah study."
Dr. Wiesel said that "Torah study for girls in colleges and campuses is becoming more significant and more serious for more and more graduates of religious education."
Rabbi Ariel called on women to invest in the study of Oral Law. "Mathematics can be studied? If it must be studied, people study Torah for the sake of the commandment to fear Heaven because if there is no Torah study there is no fear of heaven."
On Thursday the conference will continue at the Rehovot branch of the Orot Israel college and will be devoted to the Rambam (Maimonides). Participants will include Nobel prize Laureate Professor Robert Aumann and Supreme Court Judge Noam Solberg.
Prof. Yuval Sinai, president of Orot college, welcomed the participants in the conference and said that he was glad to continue the tradition of conferences on the topic of the Oral Law. Similar conferences were a traditional annual event at Mossad Harav Kook for the past fifty years.