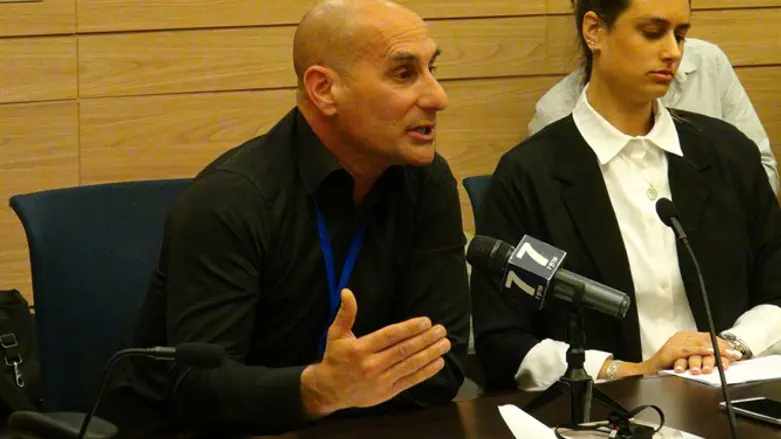 Raz Sagi
Hezki Baruch
A special meeting was held last week on the topic of integrating women into the IDF.
The meeting was held in Bar Ilan University, and initiated by the Center for Jewish and Democratic Law in partnership with the Rackman Center for Women's Advancement.
Reserve Colonel and Gaza Division Deputy Commander Yonatan Bransky, was adamant in his opposition to women serving in the IDF. According to him, the IDF's job is to win wars.
"Women and men are not equal, and you cannot treat them as equal," Bransky said.
Michal Nagan, who serves as dean for a religious women's military preparatory yeshiva (mechina), spoke of her meeting with rabbis and the IDF Chief of Staff.
"We want to work to integrate different groups into Israeli society, within the boundaries of Jewish law," Nagan said. "In non-combat units, it's possible to separate the army operations from your private space. In field units, in order to turn the soldiers into fighters, you need to do some 'soldering.' So I can't vouch for it at all. The solution needs to be no mixed units."
Reserve Colonel Raz Sagi said quoted the research which proves women's bodies are not meant for combat.
"I myself am color blind. I'm handicapped. So I wasn't accepted into the pilot course," Sagi said. "I didn't insist the army change its acceptance conditions just because I'm colorblind. The army is successful because of its cohesion. This cohesion is built from the 'togetherness,' the feeling that we're all fighting together, in the mud, in a confined space.
"Integrating men and women into these units harms their cohesion. Not because men are better than women, but because the integration itself is harmful."
Dr. Yofi Tirosh, a member of the Tel Aviv University's Faculty of Law, said the real drama lies with the "regular" female soldiers - the secretaries and the army social workers.
"The issue is not what happens to the female soldiers while they serve in the IDF," Dr. Tirosh said. "The IDF is a place for each soldier to build themselves, their connections, their resume, and so on. This also influences their life outside the army, in areas like politics and business. The modesty standards in the army are as difficult for the religious soldiers as for the irreligious soldiers."