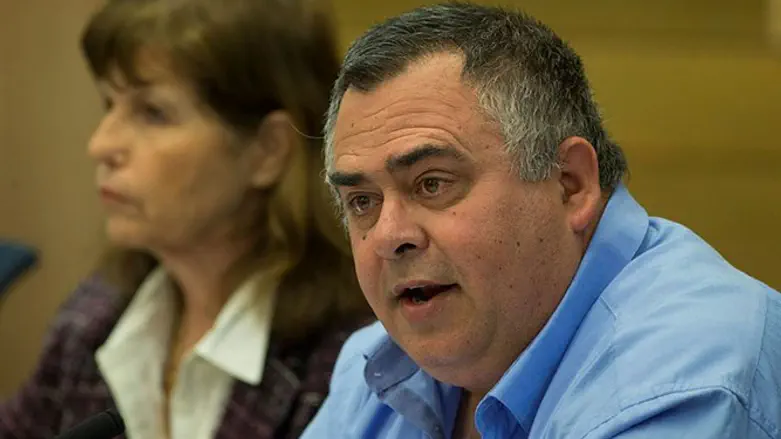 MK David Bitan
Flash 90
Coalition Chair David Bitan (Likud) spoke on Monday morning about the coalition crisis caused by Israeli Prime Minister Binyamin Netanyahu and Finance Minister Moshe Kahlon's (Kulanu) refusal to come to an agreement on the subject of the Israel Public Broadcasting Corporation (IPBC).
"There are ways to compromise," Bitan told Kol Israel Radio. "Every compromise will require pushing off the date we open the IPBC. The Finance Minister needs to be flexible and agree to compromise with the Likud.
"And while we're happy the haredi parties don't want elections, if a proposal to hold new elections is suggested, it will pass with a majority, despite the fact that Transportation Minister Yisrael Katz (Likud) and Social Equality Minister Gila Gamliel (Likud) are against it.
"We are fighting for Likud's power of influence. We did not start this battle because of the IPBC. It cannot be that every day we will run after Kahlon and the Jewish Home party whenever they want to do something different than what we want. The whole idea of a coalition is that everyone compromises and works together, in accordance with their strengths and numbers.
"We were not born, we were not chosen, to warm the chairs in the ministries we lead, and it doesn't matter who the ministers are. The ministers need to support the Prime Minister and to understand that we are fighting for the Likud's power.
"We don't want elections, we want an agreement with the Finance Minister. We don't want to appoint a minister who will force the Prime Minister to do what he wants. That would be an embarrassment for everyone, not just the Likud.
"We were never in favor of the IPBC, or of creating it against the will of the Prime Minister.
"Right now things are moving slightly, there's a chance we will come to an agreement. But the Finance Minister needs to agree to compromise with the Likud.
"The haredi parties are very important to the Likud, but the fact that the haredim are not willing to hold new elections is preventing a compromise from being reached. And everything MK Oren Hazan (Likud) said, everything Katz said - it all supports Kahlon's position.
"I believe we will reach an agreement in the end, and we will agree on something we can all promote."
The coalition crisis is a result of Kahlon's insistence on closing the existing Israel Broadcasting Authority and creating the Israel Public Broadcasting Corporation to take its place.
Previously, Netanyahu had promised to support the creation of the IPBC. However, after he listened to IBA employees last week, Netanyahu changed his mind and decided to recant his support for the IPBC.
On Wednesday, Netanyahu and Kahlon attempted to come to an agreement, but were unsuccessful.