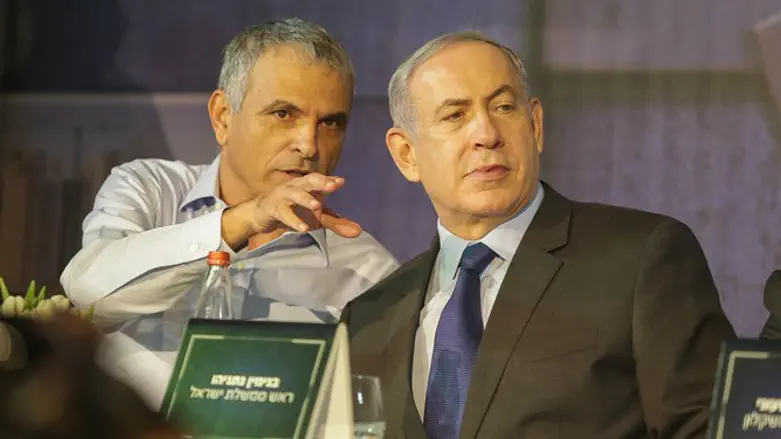 Binaymin Netanyahu and Moshe Kahlon
Eddie Yisrael, Flash 90
Israeli Prime Minister Binyamin Netanyahu and Finance Minister Moshe Kahlon (Kulanu) are meeting in Netanyahu's office to discuss the crisis over the formation of the Israel Public Broadcasting Corporation (IPBC) after a meeting with the coalition's other party heads.
The meeting was attended by several party heads but Health Minister Yakov Litzman (UTJ) suggested dismissing the meeting to leave Kahlon and Netanyahu alone.
Interior Minister Aryeh Deri (Shas) also attended the meeting.
Previously, Deri managed to help Kahlon and Netanyahu work out an agreement. This agreement was the one Netanyahu reneged on last Saturday night. However, this time Deri took Litzman's lead and left the room.The previous deal allowed the Israel Public Broadcasting Corporation to be created, on condition that it be supervised by Netanyahu's "Supervisory Law."
The disagreement is a result of Kahlon's insistence on closing the existing Israel Broadcasting Authority and creating the Israel Public Broadcasting Corporation to take its place.
Netanyahu initially agreed to this plan, but last Saturday night wrote on Facebook, "I have changed my mind after a meeting held with Israel Broadcasting Authority workers on Friday... Managing the Israel Broadcasting Authority is millions of shekels cheaper than creating the Israel Public Broadcasting Corporation. So why do we need the corporation?"
On Sunday morning, Netanyahu spoke at a meeting with Likud officials and told them there was "nothing new" and he would "update when there is something new."
Coalition Chairman David Bitan (Likud) warned on Sunday that if Kahlon does not "give up a bit of his ego," new elections will be held.