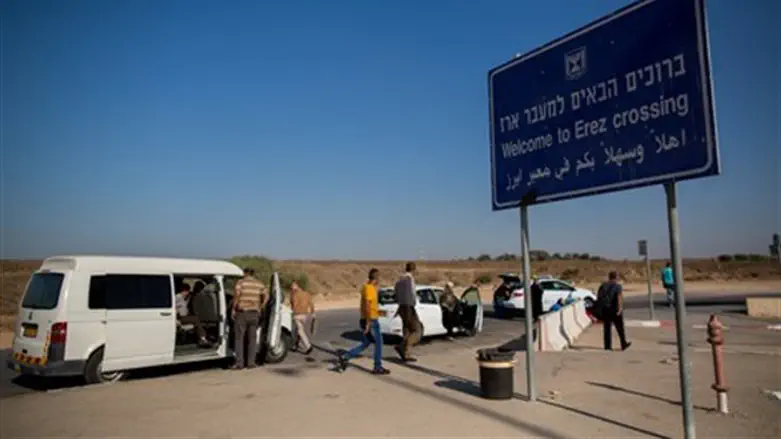 The Erez crossing
Photo: Yonatan Zindel, Flash 90
Hamas closed the crossing between Gaza and Israel on Sunday after blaming Israel for the assassination of one of its lead terrorists and officials. In addition, Hamas forbade fishing in the waters near Gaza.
A statement from the Interior Ministry in Gaza, run by Islamist movement Hamas, said it was shutting the Erez crossing for an indefinite period as it investigates the murder of arch-terrorist Mazen Faqha, 38, in Gaza on Friday.
Israeli security forces on Sunday went on high alert expecting an escalation in terror after Hamas leaders blamed Israeli intelligence agency Mossad for the shooting, which occurred near Faqha's Gaza home inside Gaza.
Security forces are always patrolling the area around the Gaza fence, but were now instructed to be on alert, add additional soldiers, change the patrol route, and more.
Israel has not commented on the shooting nor has it claimed credit for it..
Faqha was responsible for cells of Hamas's "military" wing, the Izz ad-Din al-Qassam Brigades, in Judea and Samaria.
He was later sentenced to nine life terms for organizing suicide attacks that killed hundreds of Israelis during the Second Intifada between 2000 and 2005.
Faqha was released in 2011 along with more than 1,000 other terrorists in exchange for Gilad Shalit, an Israeli soldier Hamas had detained for five years, and transferred to Gaza.
Israel did not immediately comment in detail on Sunday's closure but said its side of the crossing remained open.
The Erez crossing is the only one between Gaza and Israel for people and Gazans cross it for medical treatment. Another crossing with Israel, Kerem Shalom, is used for goods.