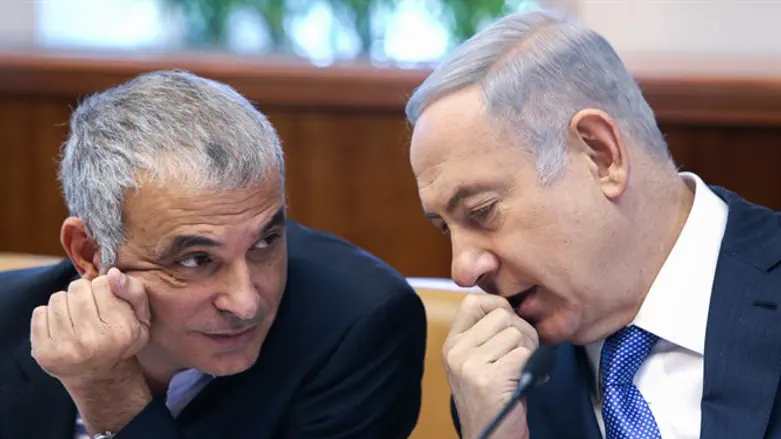 Netanyahu and Kahlon
Amit Shabi/POOL/Flash 90
Finance Minister Moshe Kahlon on Sunday morning came late to the weekly Knesset meeting, entering the room only after Israeli Prime Minister Binyamin Netanyahu finished his introductory speech and the media left the room.
The coalition crisis between Netanyahu and Kahlon began last Saturday night, when Netanyahu wrote on Facebook, "I have changed my mind after a meeting held with Israel Broadcasting Authority workers on Friday. During the meeting, I heard the heartbreaking stories of experienced and devoted workers being sent home because of the IPBC.
"In addition, as it turns out, despite the Finance Ministry's statistics, managing the Israel Broadcasting Authority is millions of shekels cheaper than creating the Israel Public Broadcasting Corporation. So why do we need the corporation?"
On Sunday, Netanyahu said there was "nothing new" in his negotiations with Kahlon, and promised to "update when there is something new."
Regarding his talks with US President Donald Trump about building in Judea and Samaria, Netanyahu said, "We're still negotiating."
Earlier on Sunday, Coalition Chairman David Bitan (Likud) said Kahlon needs to "give up a bit of his ego" in order to prevent new elections.